Jon Stewart Decries 'Ginned-Up' Woodward Spat, Media's Freakout Over Boehner Saying 'Ass'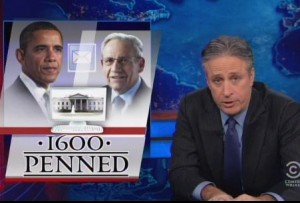 Tonight Jon Stewart took on the ginned-up feud between the White House and veteran journalist Bob Woodward. Stewart was incredibly let down by how boring and uncontroversial the actual feud was, though he perked up tearing into the media freaking out like little children over a member of Congress saying the word "ass."
Stewart was relieved that the latest war the White House is fighting is a simple war of words and not, say, of drones. Woodward, whom Stewart described as "the handsome Redford half of Woodward and Bernstein," alleged that he received a threatening e-mail from the White House after writing an op-ed claiming sequestration was there idea.
Stewart excitedly said, "Shit just got real, motherfuckers!" and couldn't wait to see just how much Obama's "Chicago-style thugs [are] strong-arming" Woodward. But the actual e-mail turned out to be very underwhelming, with Stewart laying out a similar non-threat: "If I ever see you on the streets of this town again, I will wave to you!"
Stewart rolled his eyes at "another ginned-up distraction," only to leap right into another one: the media getting all too sensitive about John Boehner saying the word "ass." Stewart asked, "When did the tough-edged corporate media become such delicate flowers?"
Stewart also pointed out that bleeping the word only makes it sound "ten times worse," leading people to speculate whether Boehner in fact used the word "cock," which Stewart himself got bleeped for saying.
Watch the video below, courtesy of Comedy Central:
—–
Follow Josh Feldman on Twitter: @feldmaniac
Have a tip we should know? [email protected]
Josh Feldman - Senior Editor