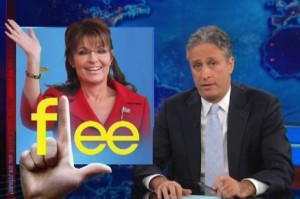 On Thursday night's episode of The Daily Show, host Jon Stewart tore into both Sarah Palin's announcement that she won't be seeking the Republican nomination this year and Herman Cain's recent surge in support.
Stewart referred back to earlier comments he'd made about Palin's bus tour across key states, wherein he surmised that she was either 1) angling for the GOP nomination, or 2) a crazy person. He seemed quite taken aback by her suggestion that the race to the White House is "not about me," particularly considering how her bus tour effectively stole attention from other, official candidates — not terribly unlike a guest who shows up to a wedding wearing a bridal gown. Stewart then called her narcissism a "victimless crime," with one notable exception: A letter from "SarahPAC" asking readers whether they think Palin should "save our nation from this road to European socialism"… and asking for money. Money Palin has already used for things like the art on her bus.
As you can imagine, Stewart has some thoughts about all this. And he would like to share them with all of you:
The only way that the little scheme could be dishonorable or shady would be if Palin had known all along what her decision was, yet continued to dangle her indecision as a lure to unsuspecting donors. Now how're you going to prove that? You'd have to find someone close to the operation, but perhaps too naive to realize she had inadvertently spilled the beans on, let's say, June 28th.
…as Bristol Palin did while visiting Fox and Friends.
And then there's Herman Cain, who has been seemingly everywhere lately, including programs evidently taped, as Stewart joked, in a La Quinta suite also used for films of the adult variety.
Onto a much more delicious topic, Stewart also poked fun at Cain's running "black walnut" ice cream joke in response to the assertion that he's merely the "flavor of the week." And then there was Stewart's take on this, Cain's theory about Occupy Wall Street:
I don't have facts to back this up, but I happen to believe that these demonstrations are planned and orchestrated to distract from the failed policies of the Obama administration.
This was rather disappointing to Stewart, who felt that — if you don't have to back things up with facts — you can come up with much, much wilder theories. Perhaps involving a tub of ice cream and a certain La Quinta suite?
Watch the segment, from Comedy Central:
Part 1:
Part 2:
Have a tip we should know? tips@mediaite.com