Jon Stewart Mocks The Man Who Harassed Chick-fil-A Employee: 'Purpose [Was] To Be A Dick'
Stewart Mocks Man Who Harassed Chick-fil-A Employee: 'Purpose [Was] To Be A Dick'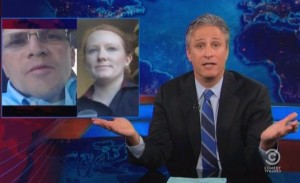 On The Daily Show tonight, Jon Stewart examined the not-often crossed words of social media and the food we eat, from Chick-fil-A's social values to a way to make Taco Bell's food even less appetizing to someone who set a box of cereal on fire. Stewart particularly focused on Adam Smith, the man who filmed himself berating a Chick-fil-A employee, uploaded it to YouTube, and consequently got fired. Stewart suspected that Smith's purpose in the video was to be a giant "dick."
RELATED: Company Fires Executive Who Bullied Chick-Fil-A Employee In Youtube Video
Stewart first noticed how lots of politicians were eager to make their support of Chick-fil-A known with pictures of themselves alongside bags with the chicken chain's food. Stewart singled out Senator Lindsey Graham, whom he referred to as "a middle-aged lesbian," for not just his Chick-fil-A meal, but for ordering a Coke Zero, which, as Stewart pointed out, is the gayest of all Coca-Cola products.
Then Stewart turned to Smith and surmised that he thought the girl standing behind the counter was somehow in charge of company policy. He slammed Smith, mockingly saying that his purpose was "to be a dick." Stewart also found it bizarre how Smith practically went out of his way to clarify that he is not gay, just a concerned citizen.
Stewart highlighted other examples of the delicious use of social media in the food industry. The first was an employee who urinated into a Taco Bell product, which Stewart predicted would. The employee was fired, though it turned out it was really an elaborate prank involving Mountain Dew. Stewart predicted that would quickly turn into a new prank-themed TV show. Stewart then doubled over laughing at a video of a gay marriage opponent setting a box of cereal on fire to protest General Mills' support of gay marriage.
Watch the segment below, courtesy of Comedy Central:
—–
Follow Josh Feldman on Twitter: @feldmaniac
Have a tip we should know? [email protected]
Josh Feldman - Senior Editor