Jonathan Alter Links Egyptian Military's Overthrow Of Muslim Brotherhood To Promise Of Obama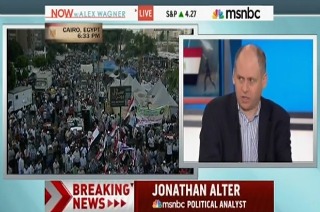 Cause, effect. President Barack Obama addresses a crowd of cheering Egyptians in Cairo in 2009, the Egyptian people rise up against their Islamism government after a year of oppression. This, according to MSNBC contributor Jonathan Alter, is the approximate chronology of events leading up to what appears to be the military-led overthrow of Egyptian President Mohamed Morsi. He saw the potential for a political and moral victory for the president in the nascent military coup in Egypt.

"The president also gave a very famous speech in Cairo," noted fill-in host Joy-Ann Reid. She said that Obama's speech represented a shift from an America that had previously supported autocratic regimes in the region.
RELATED: As Egypt's Military Deadine Passes, CNN Turns Focus To Zimmerman Trial's Failed Skype Testimony
"The street that we're seeing right now is the street that the president was addressing in Cairo in 2009," Alter said. "What he wants is a new generation of Arabs who respect Democracy, who are more secular – which is one of the more fascinating dimensions of this that hasn't been commented on."
"These are the people that Obama was addressing in that speech," he continued. "If this ends well – which is a big if – that could be seen as some sort of a, not a victory, at least something that was in keeping with what he was trying to unleash."
Former Pennsylvania Gov. Ed Rendell politely noted that Alter's analysis made no sense, seeing as the United States would be bound by principle to oppose the military overthrow of a popularly elected government – even an Islamist one.
Alter said that a political victory for the U.S. would be possible if Morsi could be forced to declare early elections. Rendell said that, as of now, that possibility appears remote.
Watch the clip below via MSNBC:
> >Follow Noah Rothman (@NoahCRothman) on Twitter
Have a tip we should know? tips@mediaite.com