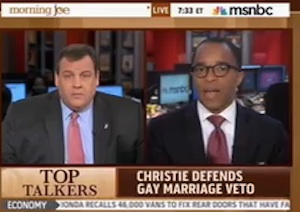 New Jersey Governor Chris Christie was seemingly surprised — at least at first — when plucky Washington Post columnist Jonathan Capehart appeared on Morning Joe and held his feet to the fire over his decision to veto same-sex marriage, or, as Capehart saw it, putting civil rights up for a referendum.
"Governor Christie, I heard you say that you have your feet firmly planted next to President Obama on this issue, but the key difference between you and the President is while you support putting the civil rights of that minority up for a public referendum, the President is not in favor of that."
RELATED: Chris Christie To Piers Morgan: My Gay Friends 'Know I'm Not Bigoted'
Co-host Mika Brzezinski had noticed Capehart — who was a guest on Willie Geist's show earlier, and had just been hanging around on set — looked keen to weigh in and had him put on a mic, as a flabbergasted Christie turned around in surprise.
"Has he said that, Jonathan?" Christie shot back. "Jonathan, has he said that? I haven't heard him say that…he's silent on the issue, like he's silent on every issue that's difficult for him."
"He's not silent on this," countered Capehart. "Governor Christie, he is not! The president and the Justice Department have made it clear that they believe the so-called Defense of Marriage Act is unconstitutional. They're not supporting it in the court cases going through the Federal court system. As President of the United States, would you support that?"
Christie then became agitated by Capehart's questioning.
"Hold on, hold on! Jonathan, first of all, I used to be a prosecutor!" snapped Christie. "I'm not going to be cross-examined by you this morning."
"I'm having fun trying!" exclaimed Capehart.
"And you're going to lose," sharply replied Christie. "So let's just move on."
"I would love for you to answer the question," pressed Capehart.
"Here's the answer to the question," Christie said. "Let's have the President of the United States show some courage, come on this program, look into the camera like I'm looking into the camera, and state his position. He won't because he wants to have it both ways. I'm not looking to have it both ways. I vetoed the bill. That's my position." Christie added that he offered to the supporters of the bill this: that if their argument that most of New Jersey wants same-sex marriage, then they can prove it at the ballot box. "At least I'm standing up to what I believe in," Christie said. "The President has hidden on this issue, Jonathan! He opposes same sex marriage! The President opposes same sex marriage, Jonathan!"
Watch Capehart grill Christie below via MSNBC:

Have a tip we should know? tips@mediaite.com