Judge Napolitano Takes On Allegations Democratic Senator Used 'Underage Prostitutes'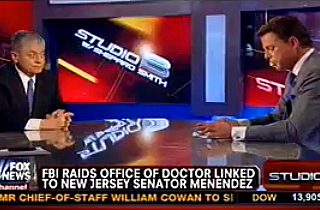 On Fox's Studio B this afternoon, Shepard Smith and Judge Andrew Napolitano took on the unfolding scandal involving a South Florida doctor and his potentially illicit ties to Sen. Bob Menendez (D-NJ).
Federal agents raided the doctor's office last night, with official reasons unclear. Smith mentioned that some believe it could be related to unpaid taxes or accusations that the doctor gave improper benefits to the senator. Menendez's office has officially acknowledged that the senator traveled on the doctor's private plane, but insists the trips were legal. The Daily Caller, however, reported back in November that several Dominican prostitutes claim to have been paid to have sex with the senator. Adding to the allegations is the fact that a campaign donor was arrested recently for having given $20,000 in illegal donations.
"Looks like a lot of stuff is piling up on [Menendez]," Smith remarked.
Under United States law, Napolitano explained, "it is illegal to travel to another country to have sex with someone under the age of 18, even if the sexual encounter there is lawful." In the Dominican Republican, prostitution is legal only for those 16 and up. The Judge did, however, caution that the senator has denied patronizing the sex trade.
Napolitano also noted that it is remarkable how Sen. Menendez has traveled on the plastic surgeon's jet multiple times, visiting a particular Dominican hotel twenty times in two years. The resort, he added, is owned by "sugar barons," causing the judge to question: "Did the gifts from the surgeon or the sugar baron influence any of [Menendez's] votes? He did vote on sugar price supports, but maybe he was going to vote for price supports anyway."
Ultimately, Napolitano concluded, "Menendez could be removed from the Senate, even if he's not convicted of a crime, because it takes a lot of evidence to be convicted of a crime, but very little evidence to be kicked out of the Senate for behavior embarrassing to the rest of the Senate."
Watch below, via Fox:
— —
>> Follow Andrew Kirell (@AndrewKirell) on Twitter
Have a tip we should know? tips@mediaite.com