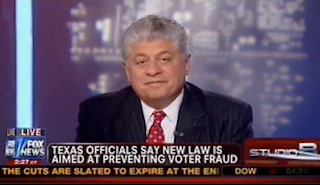 Today, state officials from Texas are over in Washington DC, defending the state's new voter identification law in front of a federal court. The law, similar versions of which exist in eight states, requires voters to obtain special IDs to participate in elections. Critics of the law fear that it will disenfranchise poor, elderly, or minority voters who may find it prohibitively difficult to travel to the special locations where they can get the IDs. On Fox News, Judge Andrew Napolitano stated that he believed the federal court will feel the same way, signaling the end of the law.
Napolitano made his assessment on Studio B, speaking to Shepard Smith via satellite (Smith was appearing live from Kansas City's Kauffman Stadium so as to both promote Fox's broadcast of this week's All-Star Game as well as to, it appears, lord his luck over his less fortunate guests). Smith asked Napolitano to use his legal expertise to theorize what the court would find.
"My gut is it will be invalidated and I think it will be invalidated because I believe that the Justice Department will be able to show that this will have an unfair burden on the elderly, the poor, and the minorities. Not that it was intended to do so, but it will have that practical effect and, if the court finds that, it will invalidate it and then the old rule of a utility bill, or anything you have showing where you live, will be sufficient for this November's election."
Napolitano was then asked how this could affect the presidential election and he stated that it probably wouldn't make any difference in Texas, a state that historically always goes Republican.
Watch the video from Fox News below:
Have a tip we should know? tips@mediaite.com