Kate Steinle's Brother Slams Trump: If You're Gonna Sensationalize My Sister's Death, Call First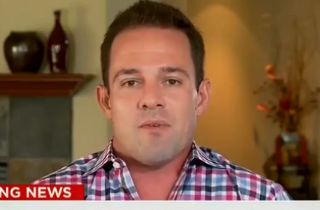 Anderson Cooper spoke with Brad Steinle on Tuesday about how his family is holding up following the death of his sister Kate by an illegal immigrant in San Francisco.
Steinle's death got lots of attention after 2016 plutocrat Donald Trump pointed to her death as proof that his explosive comments about illegal Mexican immigrants were correct. Steinle's death also led to a national discussion about "sanctuary cities" and why repeated felon Francisco Sanchez was allowed to walk free.
Her brother told Cooper that it was "insulting" that the city's system failed his sister, but he was also asked to comment on what it was like to hear so many people talking about Kate on such a personal level.
"I would hope that people would reach out and get our views, and our input in whats going on," Steinle said.
When asked about whether Trump ever tried reaching out to his family before talking about his Kate, he said he never heard a thing, and that Trump was trying to set up a platform his family did not believe in:
"You hear Donald Trump talking about Kate Steinle like he knows her. I've never heard a word from his campaign manager, never heard a word from him. Its disconcerting and I don't want to be affiliated with someone who doesn't have the common courtesy to reach out and ask about our political views and what we want."
When Cooper got right down to it and asked if Brad felt like Trump was using Kate to score political points, Brad said yes, Trump was sensationalizing her.
"If you're gonna use somebody's name and sensationalize the death of a beauty young lady," he said, "maybe you should call and talk to the family first and see what their views are."
You can watch the segment here, via CNN:
[Image via Screengrab]
Have a tip we should know? tips@mediaite.com