Keith Olbermann Implies Michele Bachmann Is A Pig, Mocks Greta Van Susteren's Speech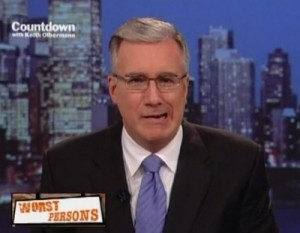 New and former Countdown host Keith Olbermann displayed the comedic chops of a fifth-grader Monday night when he ad-libbed a line about newly-minted GOP candidate Rep. Michele Bachmann (R-MN), and delivered a mocking impression of Fox News' Greta Van Susteren. Of Bachmann, Olbermann said "Yes, you do smell ham burning, there's a fire in her," whereas Van Susteren was treated to The Last Line of Defense's trademark mockery of speech tics. Biff Tannen would be proud.

There are many Olbermann detractors who try to cast comments such as these as misogynist, but there's little evidence that he's any more of a juvenile jerk to women than he is to men with whom he disagrees. Perhaps it's a vestige of chivalry that makes it more jarring when he calls a woman a pig, but his schoolyard barbs know only one dividing line. If you're not on Team Olbermann, you're getting sand kicked in your face: (video from Current TV's Countdown)
This isn't about whether Michele Bachmann or Greta Van Susteren "deserve" this treatment (they don't). There are legitimate criticisms to be made of Bachmann, but calling her a pig isn't just over the line, it's a non sequitur. Of the knocks leveled at Bachmann by even her sharpest critics, none would suggest such an appellation.
I consider Greta Van Susteren a friend, and someone who knows how to handle a disagreement. The blog post to which Olbermann refers did display an arguably tone-deaf set of priorities, which might explain why it was removed in favor of one that calls for Justices Prosser, Bradley, and Abrahamson to resign, and which takes the measure of the allegations against Prosser. Greta tends to shoot from the hip on Gretawire, which is a significant part of the blog's appeal, but she's also remarkably open to dialog.
There are some (like Baltimore Sun TV critic David Zurawik) who think Olbermann should tone down the insults, but I'm not one of them. Cutting wit has long been the workhorse in the stable of political discourse. Olbermann's problem is that he needs to tune up the insults. His debut ratings demonstrate that the core audience that followed him to Current needs to be built upon, and even some of them might soon wonder whether the man who writes all of those impassioned, florid Special Comments can do better than this. He can, of course, but is showing no inclination to.
Despite what Zurawick says, Olbermann doesn't have to choose between being a political commentator and an insult comic. He just needs to be better at both.
Have a tip we should know? [email protected]