Kirsten Powers On O'Reilly: GOP Is Becoming 'Irrelevant' Because They 'Don't Understand The Electorate'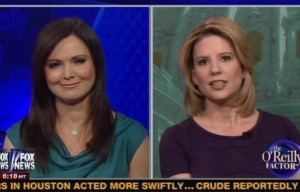 Bill O'Reilly declared tonight that after last night's fiscal cliff compromise vote, President Obama will "go down in history as the biggest spending president ever." He brought on Kirsten Powers and Dee Dee Benkie to react to the vote, but the conversation quickly shifted to a broader discussion of why people voted for Obama. Benkie and O'Reilly agreed that people supported Obama to get "free stuff," while Powers dismissed that line of thinking as the Republican party "telling themselves… lies about who the electorate is."
RELATED: Paul Krugman: Obama Might 'Go Down In History As The Wimp Who Threw It All Away'
O'Reilly asked Powers how she feels about paying more in taxes this year. Powers said she's willing to pay her fair share, but did admit she's disappointed in Obama for not offering forward any meaningful spending cuts. She told O'Reilly she hopes some time in Obama's second term he will seriously address the spending issue.
Benkie started out by wondering whether Obama or Millard Fillmore can be considered the worst president in U.S. history, before telling O'Reilly that Obama is like the "popular guy" in school that promises free stuff in order to become student body president. She said America is slowly heading for the "ninth level of Dante's Inferno" while people continue to support Obama because of his likability.
Powers responded to Benkie by saying her entire argument sums up why the Republican party is irrelevant, saying "they fundamentally don't understand the electorate and they keep telling themselves these lies about who the electorate is." She dismissed the idea that people support Obama because he gives them free stuff, and saying the GOP needs to stop denigrating people who had legitimate reasons for supporting the president.
Watch the video below, courtesy of Fox News:
—–
Follow Josh Feldman on Twitter: @feldmaniac
Have a tip we should know? tips@mediaite.com
Josh Feldman - Senior Editor