Kirsten Powers On O'Reilly Panel: It Is 'Problematic' Democrats Haven't Worried About Potential Obama Loss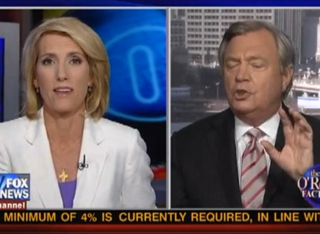 On tonight's O'Reilly Factor host for the night Laura Ingraham brought on Kirsten Powers and South Carolina Democratic Chair Dick Harpootlian to weigh in on the latest string of deviant statements on the left– from Bill Clinton to Ed Rendell to Cory Booker— and what they mean for the fact that Democrats seem to be for the first time considering the possibility of a Romney win. While Powers argued that it was "problematic" that Democrats had been so confident, Ingraham and Harpootlian scuffled over whether President Obama's leadership was in question by the left.

RELATED: Fox News Contributor: 'Mitt Romney Is Chicken Doo Doo'
"This is Fun Season in politics because all the ghosts from the past start coming out," Ingraham joked, referring to Rendell and Clinton. Powers discounted some of the criticism from Democrats as being "in that category of Hillary lovers who feel comfortable criticizing the President" and proof that people still quite like Hillary Clinton. She contrasted this to the attack on President Obama for discussing Romney's record at Bain Capital, which is "central to what Obama is trying to do with Romney."
Harpootlian did not understand the support for Hillary Clinton, noting that the last time Clinton involved herself in executive policy was 1994, when "every Democrat in this country got massacred." He did agree that "this is the silly season, focusing on Wisconsin or what Rendell says." As for concerns on the left, Powers argued that it was far more "problematic" that "the Democrats ever weren't worried" than that they are now, and that the message against Romney was a bit disjointed.
Harpootlian and Ingraham ended up in a separate crosstalk-laden debate, however, about the President's leadership, which she argued was insufficient because "as President, your job is not to say 'here's my to-do list, do it.'" Harpootlian argued that, because voters "compare shop," Romney's record was far more important. "You're avoiding the question," Ingraham charged, to which Harpootlian replied with his now well-known line that "you can't make chicken salad out of chicken doo-doo."
The segment via Fox News below:


—–
» Follow Frances Martel on Twitter
Have a tip we should know? tips@mediaite.com