Kirsten Powers To Fox Panel: Dems Adopting Gay Marriage On Party Platform Could Hurt Black Support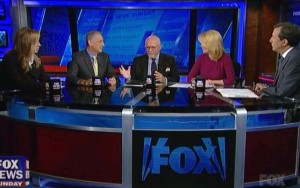 The Democratic party is poised to make history if they officially adopt gay marriage as part of its platform. On Fox News Sunday today, Chris Wallace asked Kirsten Powers if there would be any political blowback for the Democrats if it is made official. Powers noted that only 40 percent of African-Americans support gay marriage, and losing some of that voting bloc could hurt President Obama and the Democrats in November.
RELATED: Democratic Party To Include Gay Marriage As Part Of Governing Platform At Convention
Powers said there are thousands of black pastors around the currently mobilizing to "challenge" Obama and the Democrats on gay marriage. And while she acknowledged that no one really pays attention to party platforms, there could be a problem if a large number of Democratic delegates rise up to challenge the inclusion of gay marriage at the nominating convention.
Ed Rollins and Wallace pointed out that the convention is in North Carolina, a state where gay marriage and civil unions were recently banned by public vote. Kimberley Strassel said that in the grand scheme of the election, gay marriage will be dwarfed by the importance of the economy.
Wallace asked if it would energize liberal Democrats more or social conservatives with a newfound inspiration to support Romney. Joe Trippi said that it is likely going to mobilize everyone, but doubted it would be something the Romney campaign would jump on.
Watch the video below, courtesy of Fox:
Have a tip we should know? [email protected]
Josh Feldman - Senior Editor