Larry David On Morning Joe: Won't Play Golf With Rep. Eric Cantor, Claims To Have Invented Coffee Lids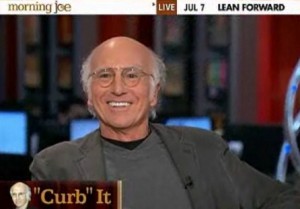 Comedian Larry David appeared on Morning Joe to promote the new season of Curb Your Enthusiasm, debuting this Sunday, yet the conversation became awkward when David was a bit too blunt about who he would never play golf with: Republican Congressman Eric Cantor. Especially given the fact that Cantor appeared on Morning Joe in an earlier segment, Mika Brzezinski nervously laughed as some others around the table tried to lighten the mood with a bit of humor.
Mika asked David, "if you had to golf with three Republicans in Congress who would you choose" and also asked which Republican "would you not play with under any circumstance?" David jumped to answer the latter, saying Cantor, because "I don't care for him, if I may be blunt." When prompted further by some around the table, David suggested "the hair is part of it. The politics just a smidge." The rest of the lengthy conversation was much more fun, with David showing clips of the new season of his show and humorously demanding credit for inventing the coffee lid over thirty years ago.
Fans of Curb Your Enthusiasm are familiar with David's left-leaning ways. In fact there was an episode where David finally won over a woman he was pursuing for an entire season, only to discover she had picture of former President George W. Bush framed in her dressing room and David hilariously lost all interest in her. Yet still, his apparent unwillingness to ever play golf with someone simply because he disagrees with their politics seems uncharacteristically not funny for the comedian.
Watch the clip from MSNBC below:

Have a tip we should know? tips@mediaite.com