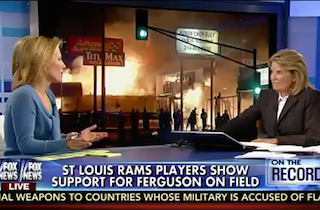 On Sunday, members of the St. Louis Rams came onto the field holding their hands in the air in protest of the grand jury decision not to indict Officer Darren Wilson in the shooting death of Michael Brown. It was move that Fox News' Greta Van Susteren and Laura Ingraham found both inappropriate and offensive.
"I don't know about you, but when I watch football, I want to watch football," Van Susteren said at the top of the segment Monday evening. "I don't want to watch someone's political agenda shoved down my throat, whether I'm in agreement with it or not." The host went on to ask why there weren't similar displays in reaction to the Ray Rice domestic abuse scandal, asking, "Why ruin football with politics and controversy? It's just a game."
Later, Van Susteren invited contributor Laura Ingraham to weigh in on the matter. She described professional sports as one of the last arenas left that is not tainted by politics.
But more than just disagreeing with the players' decision to make a public statement, she added, "I didn't care for it because it's also not based on any facts." She noted that the grand jury refuted the claim that Brown had his hands up when Wilson shot him. "What's that supposed to mean, it's bigger than Michael Brown? I don't understand it."
"'Shut up and play' would be my preferred," Ingraham said. "But of course they have a right to speak out. But, at this time, at this moment, I don't know what they think they are going to accomplish."
Watch video below, via Fox News:
[Photo via screengrab]
— —
>> Follow Matt Wilstein (@TheMattWilstein) on Twitter
Have a tip we should know? tips@mediaite.com