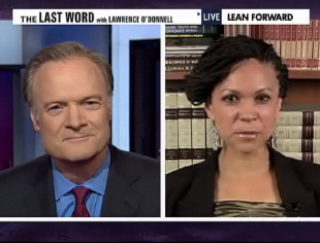 Mike Huckabee may be backtracking all over the place about his comments that Natalie Portman was somehow detrimental to society by virtue of being pregnant out of wedlock, but one point he isn't ceding is that single mothers are universally impoverished and miserable. At least one single mother begged to differ on The Last Word last night: Professor Melissa Harris Perry, who understandably appeared to take some personal offense at his comments.
Speaking to host Lawrence O'Donnell, Harris Perry shared that she had been a single mother for most of her daughter's life (though no longer) and even began by ceding Huckabee at least one point: single mothers have it rough. "I was raised by an unmarried mother," she explained, and she can tell you that "most single mothers are not making millions of dollars for their movie roles." She added that "most of us are uneducated and poor" and that the task did come with "a set of restrictions and difficulties," but that to it was wrong to consider single mothers "a scourge on American cultures, values, morals." To that O'Donnell added that there were very valid reasons for many women to leave a relationship such that being a single mother is significantly more beneficial to the child, such as in cases of abuse.
She added that it was even more of a mistake to assume that Natalie Portman has some sort of magical hold on youth culture such that girls who would have previously not behaved in such a manner feel the need to get pregnant upon seen her baby bump. "What mostly impacts young women's lives are the actual opportunities those people face." But, she added, Portman's behavior could have a much more adverse effect based on something completely independent of her pregnancy: the body weight issues she could create in young girls by slimming down the way she did for Black Swan and glorifying the weight loss.
The segment via MSNBC below:
Have a tip we should know? tips@mediaite.com