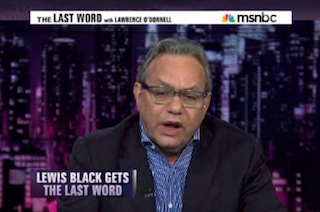 Lewis Black appeared on The Last Word with Lawrence O'Donnell Tuesday night, and after pledging he "was not and has never been a Canadian," proceeded to skewer Texas Governor Rick Perry, with whom he's embroiled in a New York v Texas feud.*
"Go back to college," Black advised Perry. "Start over and take another four years, and let's look at the world again, Rick. And this time, try to memorize some stuff and pay attention in class."
"He may run for president again," Black said. "As a comedian, I'm thrilled, but as a citizen, I weep."
Black's disagreement with Perry was not just over the Lone Star state's questionable superiority. O'Donnell played a clip from Black's recent commencement address, in which the comedian mocked Perry's austerity politics.
"It's privilege to pay taxes," Black told the students. "Yeah! It's not a political question, folks. We have to pay for stuff."
"When people drive over bridges, I don't know who they think is going to take that job to fix those bridges," Black said to O'Donnell. "What do you think, when the bridge goes, they're going to call you up and say, 'Hey, bring your tool kit?' You have to pay for stuff! What you don't do, if you're an adult, is decide that you're going to budget things through a sequester. What does that word have to do with budgeting? It's like if you have a family budget and go, 'We really don't know what to take out economically from the budget, so we're going to whack out protein for this week.'"
Watch the full clip below, via MSNBC:
[h/t RS]
* Confidential to New York: breakfast tacos.
————
>> Follow Evan McMurry (@evanmcmurry) on Twitter
Have a tip we should know? tips@mediaite.com