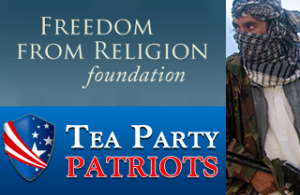 The American Family Association's Bryan Fischer used his "Focal Point" radio broadcast this week to draw an unlikely analogy between "secular fundamentalists" in America and the Taliban.
"Do you know who the American Taliban is?" Fischer asked. "It's secular fundamentalists because they are the one that want to remove all mention of Jesus from the public square… and they're the Taliban. The Taliban wants to do the same thing. The Taliban wants to drive Christ and any mention of Christ and drive Christians from the public square."
Fischer held up the Freedom From Religion Foundation and the ACLU as specific groups that he believes embody the spirit of the Islamic fundamentalist movement.
Watch video below, via Right Wing Watch:
This isn't the first time the term "American Taliban" has been bandied about for controversial effect. Most notably, Aaron Sorkin employed the term, through his fictional news anchor Will McAvoy on the HBO drama The Newsroom.
In a famous scene from the season one finale, McAvoy, played by Jeff Daniels, goes on an epic rant against the Tea Party, outlining what he sees as the many similarities between that group and the Taliban.
"They can call themselves the Tea Party," McAvoy says during his broadcast, "they can call themselves conservatives. And they can even call themselves Republicans, though Republicans certainly shouldn't. But we should call them what they are: the American Taliban."
Watch video below, via HBO:
While the fictional McAvoy uses the "American Taliban" comparison to draw attention to what he sees as a hijacking of the Republican Party by a group that wants to take it in a regressive direction, the real Fischer is using it to equate non-believers with a group that will literally martyr themselves and kill others for their religion.
What both men appear to prove is that there are better analogies out there and the Taliban are probably better left in Afghanistan.
—
>> Follow Matt Wilstein (@TheMattWilstein) on Twitter
Have a tip we should know? [email protected]