Lou Dobbs Condemns Gov. Christie For 'Slobbering' Over Obama When Recovery Hasn't Been Successful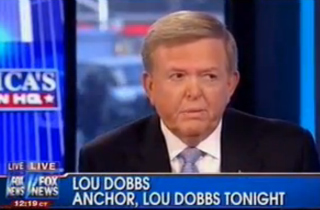 Appearing on Fox News' America Live this afternoon, Fox Business host Lou Dobbs lambasted New Jersey Governor Chris Christie for "fawning" over President Barack Obama during his visit to the storm-ravaged state, instead of doing the best job in efficiently aiding the recovery of his state.
After playing several clips of New York and New Jersey residents yelling at politicians and television cameras over how desperately they need supplies and assistance, host Megyn Kelly noted that these angry residents' cries represent "the danger in being too full of praise for any official in the wake of a tragedy."
Dobbs then went on the assault against Gov. Christie for his visit with the president:
He did not simply say thank you [to President Obama]. He literally slobbered over the president with his expressions. This is not a foolish or dumb man. He had to know what he was doing. He did not simply extend a hand. He embraced this president without, at least this president, physically, empirically, obviously without doing anything.
The fiery commentator then lamented that "This is a response and a relief effort that is woefully inadequate. We have people without gasoline. We have people without power."
"We have an emergency situation here in this federal government is not responding," he continued before taking aim at the president: "And we have a president who is not responding to the emergency. He is campaigning. I understand the conflict but my goodness, part of what he is required to do and part of what this Governor Chris Christie should be thanking him for, is for actually being effective. That hasn't happened yet."
Kelly and Dobbs then went on to characterize Christie's behavior as "fawning" over the president, which Dobbs chalked up to a political "miscalculation" by the governor.
Watch below, via Fox News:

— —
>>
Follow Andrew Kirell (@AndrewKirell) on Twitter
Have a tip we should know? tips@mediaite.com