Luke Russert: GOP Will Use 'Every Trick' To Repeal ObamaCare, 'Just Like The Democrats Did To Pass It'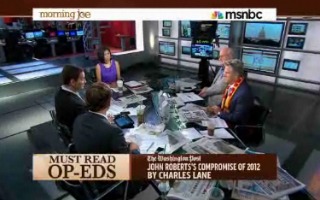 Echoing the opinions of not only Charles Krauthammer but of our own Noah Rothman, Monday's Morning Joe panel discussed whether Chief Justice John Roberts' health care ruling was the correct things to do in terms of his legacy and the Supreme Court's.
RELATED: Roberts' Decision On Health Care Was The Only Historically Responsible Thing To Do
Using a Washington Post op-ed piece on "John Roberts's Compromise of 2012" as a jumping-off point, Luke Russert explained that the idea that Roberts was "originally conservative and then was persuaded by the liberal justices" to ultimately betray, in a sense, his Republican colleagues is one that is "gaining a lot of traction in DC." And while those in a position of leadership within the GOP will not come out and attack Roberts, he continued, he's spoken with some "rank-and-file people that are very displeased and he may come out publicly and that this was, that say he was a traitor."
"You hear this from the Glenn Beck crowd," he added.
That said, Russert feels that this is ultimately a question of "historical legacy," with Roberts — who most likely has decades left to go within the Supreme Court — saving the court from seeming politicized on the health care decision.
Besides, he said, "there's a chance, it's a small chance, it's possible that the Republicans can get the House, the Senate and the presidency, they will repeal health care." What's more, they will use "every single trick in the book" to repeal it, just like "Democrats did to pass it."
Indeed, he continued, it wouldn't surprise him if Sen. Mitch McConnell did things that will perhaps be viewed as "constitutionally afoul of the law" to meet that goal.
Have a look, courtesy of MSNBC:
Have a tip we should know? [email protected]