Maddow Mocks 'Michele Bachmann Flying Circus' in Egypt, GOP's Silence on Syria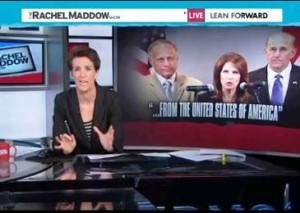 Rachel Maddow found it odd that three Republican members of Congress (Michele Bachmann, Steve King, and Louie Gohmert) went to Egypt to deliver a message of support for the military. But it started making sense when she realized that Republicans now appear to be jumping on literally every other issue there is in order to avoid talking about Syria.
She mockingly explained to Bachmann, "The Muslim Brotherhood is actually a thing, it's not just a term for guys who are Muslims who maybe have siblings." She found the whole thing "amazing," namely that these three Republicans "a, have passports, and b, use them!"
Maddow then brought up the politics being churned up on the right over Syria, including a Republican congressman who backed Syrian strikes before immediately flip-flopping and then trying to fundraise off it. She also brought up Mitch McConnell saying absolutely nothing on Syria thus far and the weekly Republican radio address this past weekend talking all about… Obamacare.
Maddow took all of this to mean the GOP doesn't really want to contribute to the Syria debate.
"The Republican party, for the most part, is just deciding not to weigh in or they're going to Egypt to say the Muslim Brotherhood did 9-1-1. It would be awesome at times like this for the opposition party in Washington to be a useful part of the debate… Instead, though, a lot of the most substantive discussion and debate is happening just inside one of our two parties."
Watch the video below, via MSNBC:
[photo via screengrab]
— —
Follow Josh Feldman on Twitter: @feldmaniac
Have a tip we should know? tips@mediaite.com
Josh Feldman - Senior Editor