Maddow On Commitment To Reporting: "Whenever You Leave The Studio, Your Ratings Go Down"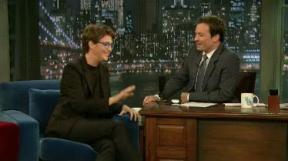 MSNBC's Rachel Maddow took the 30 Rock elevator up a couple floors last night to be a guest on Late Night with Jimmy Fallon.
Now in the lead guest seat, a show of how far she's come in the mainstream non-cable news entertainment world, Maddow talked about the "bad name" for the next phase of Iraq and her busy month of travel for work – that saw her ratings decline.
The political part of the discussion began with Operation New Dawn, which Maddow called a "bad name." "It sounds like a Twilight movie," said Fallon.
As for the speech Tuesday: "It was sort of weird, I think, to talk about the war ending and not talk about what the war was for." Later: "There's 50,000 Americans still there and its still a very dangerous place and the war was a really bad idea in the first place."
Last week Maddow was in New Orleans for the Katrina anniversary, and her trip to Iraq was earlier this month as well. She talked about how it showed the commitment from MSNBC to reporting – since her ratings inevitably suffered:
It is sort of an acknowledged truth in the news business that whenever you leave the studio, your ratings go down. No matter where you're going, even if you're going to cover somewhere exciting, your ratings go down. It's just what happens when you leave the studio. And so it is a big sacrifice for the company to say, 'yeah, Maddow you can take your show and go to these places, and do reporting and learn this stuff.' And I feel like I do learn so much.
Her ratings so far this week back in the studio? Better than last week.
Here's part of her interview with Fallon (and here's Maddow, the mixologist, teaching Fallon a new drink):


—–
» Follow Steve Krakauer on Twitter
Have a tip we should know? tips@mediaite.com