Maddow Blasts NRA: You Can't Oppose Gun Laws Just Because 'Criminals Don't Follow Laws'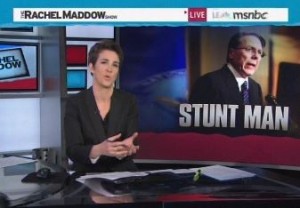 Rachel Maddow tonight took on the shifting arguments the National Rifle Association and pro-gun politicians are using in order to continue pushing back against any laws, including laws that would limit magazine sizes. Wayne LaPierre argued this week that people could quickly change magazine clips, but Maddow rebutted this by pointing out only very skilled gun owners can do this (it's even its own sport), and argued that no law should ever be rejected just because of special skills of a few people.
RELATED: Maddow On 'Insane' And 'Mindless' GOP: They Loved Obama's Gun Proposals… Until He Started Proposing Them
Maddow brought up how being able to quickly change magazine clips is a lot like competitive lockpicking (which is, amazingly, a real thing) and being able to jump over cars. Just because people can do these things, she said, does not mean we shouldn't have laws regarding locks and sidewalks for pedestrians. She also pointed out that this is the argument being resorted to after people realized that "criminals will ignore gun laws so why bother" might be a weak argument.
Maddow pointed out how the Newtown parents fighting for gun control have been magazine limits a central point of their arguments, asking whether the shooter having to reload more would mean that less children would have been killed. She highlighted states that have already passed laws setting magazine limits, and pointed out that some of the magazine clips used in recent deadly mass shootings would not have been able to be attained legally
Maddow said that "banning extended clips makes them harder to get," even if they still exist on the black market, so despite what the NRA argues, there may be some value in limiting them.
Watch the segment below, courtesy of MSNBC:
—–
Follow Josh Feldman on Twitter: @feldmaniac
Have a tip we should know? tips@mediaite.com
Josh Feldman - Senior Editor