Maher Panel Bashes 'Mr. Conservative' Christie Over Paul Spat, Barney Frank Rails Against Dangerous Intel Leaks
Maher Panel Bashes 'Mr. Conservative' Christie Over Paul Spat, Frank Rails Against Dangerous Intel Leaks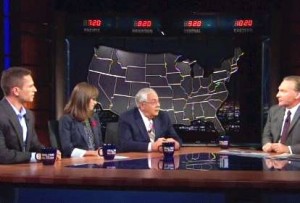 Bill Maher opened the panel discussion on his show tonight taking on the "huge verbal slapfight" between Chris Christie and Rand Paul that Maher believed was an important "fight for the soul of the Republican party" over national security. He and the panel largely came down on Paul's side in that fight, but former Democratic congressman Barney Frank expressed his personal outrage with Bradley Manning for releasing diplomatic cables, getting into a spat with fellow panelist and Occupy Wall Street activist Alexis Goldstein.
Business Insider's Josh Barro said Christie took up this fight to be "Mr. Conservative" again instead of a wishy-washy New England moderate Republican. Frank bashed Christie's anti-gay record and said he agrees with the Pauls (both Rand and Ron) on drugs and civil liberties. Maher questioned why the Department of Homeland Security still exists, and while Frank did push back a bit, the others agreed that it might be wise to scale back the government bureaucracy and the "internal lobby" it created.
Maher brought up Manning and found it "odd' that he was found guilty for exposing crimes, and somehow the people who engaged in these crimes have not been brought up on charges at all. Frank insisted it was dangerous for Manning to release all those cables, but Goldstein shot back that they were important and in the public interest.
They went back and forth for a bit, with Goldstein arguing Manning was selective and Frank shouting, "That's not true!" He pressed, "You believe there should be no privacy in diplomacy?" Maher had to intervene, quipping, "You're badgering the witness, Barney!"
Watch the video below, via HBO:
—–
Follow Josh Feldman on Twitter: @feldmaniac
Have a tip we should know? tips@mediaite.com
Josh Feldman - Senior Editor