Maher Sees The Light: 'The Pope's An Atheist,' So 'I Am Going To Book My Flight To Heaven Right Now'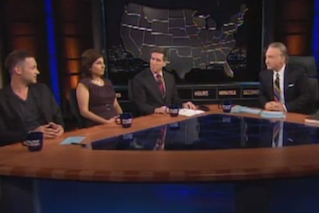 "I think the Pope might be an atheist," Bill Maher said on his show Friday night. "There, I said it. Like I think Obama is."
This revelation followed an errant comment Pope Francis made about the inclusive nature of Catholicism. "Pope Frank said, 'the lord has redeemed all of us, not just Catholics, even the atheists," Maher said. "And I was like, 'I am going to book my flight to heaven right now.'"
"It's funny, it's just like politics," Maher continued. "The hierarchy at the Vatican was like 'What the fuck did this guy just say?' You could almost see them preparing the poison. 'Luckily we've got a spare pope!'"
"I remember when I was making Religulous," Maher said, "we talked to a lot of priests, and we found out that a lot of priests really aren't believers. They do it because—now, some of them do it for the sex. But there's a lot of good ones, they do it because it's a way to help people. They know they can't tell the masses that it's all a crock, but they themselves don't believe it."
"Pope Frank," Maher said, "he's a sophisticated guy from that era, and—I'm telling you, I think the Pope's an atheist."
"As a progressive I think the Pope kinda rocks," said Neera Tanden, President of the Center for American Progress. "He's been great on so many issues."
"This Pope?" Maher asked. "Already? He's been there like a week!"
"He's already chastised austerity in Europe," Tanden said, "he's criticized driving all these people into unemployment, and all the cuts that people are really suffering from. He's made arguments about corporate profits versus poverty, that we should care more about how people are suffering and care less about how banks are doing."
"Oh, they're going to poison him," Maher said.
"We should embrace his works, and the fact that he's actually been a strong voice on really important issues," Tanden said. "In just two months he's been a refreshing change from where the Church has been on these issues."
"When I talk to Catholics," James Poulos, HuffPost Live producer, agreed, "some of them, even who are critical of Church that's been moving leftward in some ways, really think that he does a lot of good."
Maher then played the viral clip of Wolf Blizter being surprised by an atheist in the rubble of the Moore tornado.
"What'd you think of that?" Maher asked.
"You don't have to be an atheist to think that God cares less about your property and maybe more about your soul," Poulos said. "You don't have to thank the lord that your hosue is still standing. I don't think that's what religion's all about."
"Also," playwright Paul Rudnick said, "what do you say to your neighbor whose house was leveled?"
"That's always the thing," Maher said. "It's obviously so completely arbitrary."
"And who made the tornado?" Rudnick asked, and the segment ended on that existential query.
Watch the whole exchange here:
—
>> Follow Evan McMurry (@evanmcmurry) on Twitter
Have a tip we should know? tips@mediaite.com