Malkin And Fox Hosts Bask In CNN's Benghazi Interview That Blew Up Obama's 'Phony Scandals' Claim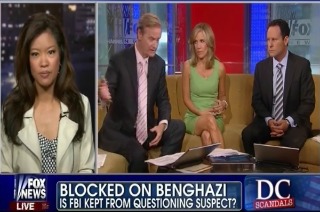 CNN scooped the political press on Wednesday when they played a portion of an interview one of their reporters conducted with an individual accused of participating in the deadly Benghazi attacks. The suspect confessed that he is not in hiding and would be happy to speak with American investigators if they contacted him, but they have not. On Thursday, conservative columnist Michelle Malkin observed that this report came just hours after White House Press Sec. Jay Carney had expanded on a claim made by President Barack Obama, that the investigation into the response to the Benghazi attack a "phony" scandal.

Malkin observed that Carney specifically singled out the Benghazi scandal and the controversy surrounding the Internal Revenue Service's application of undue scrutiny to conservative groups' requests for tax-exempt status.
She said that Carney's response revealed precisely "which scandals are causing the most damage to this administration."
RELATED: CNN Interviews Accused Benghazi Attack Perpetrator: Not In Hiding, Claims FBI Not Looking For Him
"This administration is desperate to change the subject from the very real scandals that are plaguing them," Malkin observed.
Brian Kilmeade noted that the administration is eager to act unilaterally against terrorists identified in the battlefield and reveal those victories to the press, but appears paralyzed and unable to or unwilling to respond to the Benghazi attacks.
Malkin recalled that the president promised to bring the Benghazi attack perpetrators to justice and that this would be his administration's singular focus. "Of course, this administration has a focus of a chronic inebriate with cataracts," she added.
Watch the clip below via Fox News Channel:
> >Follow Noah Rothman (@NoahCRothman) on Twitter
Have a tip we should know? tips@mediaite.com