Maria Bartiromo and Tom Perez Yell At Each Other in Nightmare Interview: 'You're in a Fictional Wonderland!'
I did not expect to witness an absolute train wreck of an interview when Tom Perez joined Maria Bartiromo on Fox Business Network Wednesday morning, but I did, and lordy it was hard to look away.
Things got off to a fairly amicable start, with Bartiromo asking the Democratic National Committee chairman about his party's sweeping victories in Tuesday's elections. Things went south when the host started verbally assaulting a tongue-tied Perez over Donna Brazile's revelations of intra-party scandal.
Bartiromo accused the DNC of fixing the primaries in favor of Hillary Clinton, crying "it was rigged!" as Perez did his best to explain that Clinton still bested Bernie Sanders by four million votes.
"Maria, I understand that when the Democrats win as they did across the board last night that you would like to focus on other things," Perez shot back, adding that the GOP "got their clocks cleaned last night."
Then, after Perez touted Obamacare — and Bartiromo said the health care system was imploding — the two went messily back and forth, with Perez attempting to defend the Affordable Care Act and Bartiromo grilling him on whether he has spoken to Sanders since Brazile's revelations.
"Does somebody owe Bernie Sanders a phone call, since now we know what took place, and everything was rigged, and you were behind Hillary Clinton?" she charged.
"Maria I don't know if this is a lecture or a Q&A, you tell me," Perez lamented.
The two yelled over each other for a few more minutes, until there was some room for reconciliation (and maybe even discourse!): Bartiromo doled out praise for Perez's job as labor secretary under the Obama administration.
But no, all hope was lost, as Perez replied "you didn't interrupt me as much then as you do now Maria," causing Bartiromo to scoff and cast her glasses onto her desk.
She then asked Perez about why the DNC did not turn their computers over to the FBI for an investigation, to which he replied: "Maria, you're in a fictional wonderland right now."
Perez tried to turn the conversation back to Tuesday's election results, claiming them as proof that voters embraced the Democrats' vision.
"I haven't heard a vision!" Bartiromo shouted back. "Your party has been hijacked by the extreme left, Barack Obama, Elizabeth Warren."
As Perez outlined his vision for the Democratic party, Bartiromo challenged him on the particulars, and the train wreck segment slowly came to a grinding halt — replete with cutoff music.
As Bartiromo sent to commercial, she left with a "congratulations Tom" and this prayer gesture: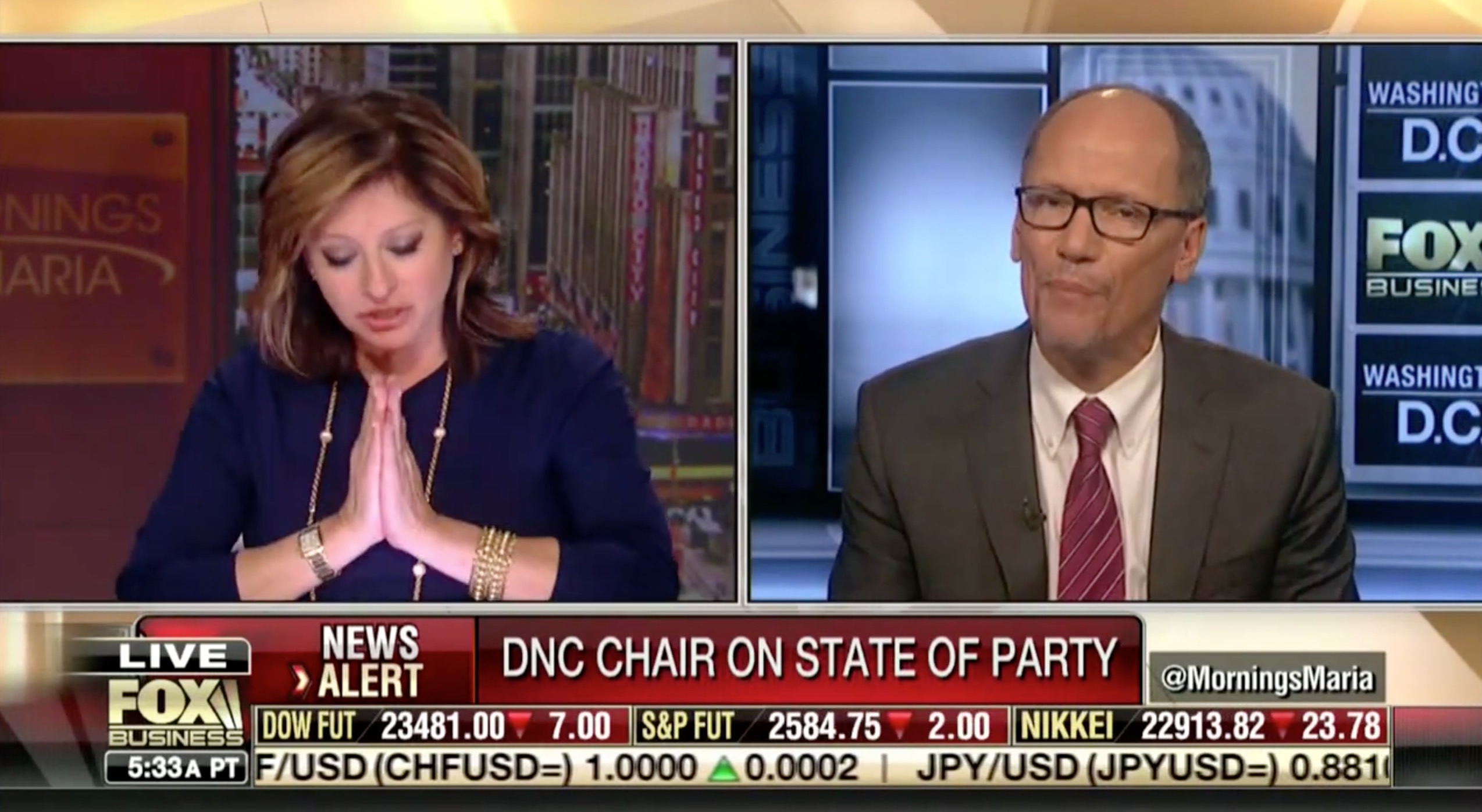 Watch above, if you can stomach it, via Fox Business Network.
[image via screengrab]
—
Follow Aidan McLaughlin (@aidnmclaughlin) on Twitter
Have a tip we should know? tips@mediaite.com
Aidan McLaughlin - Editor in Chief