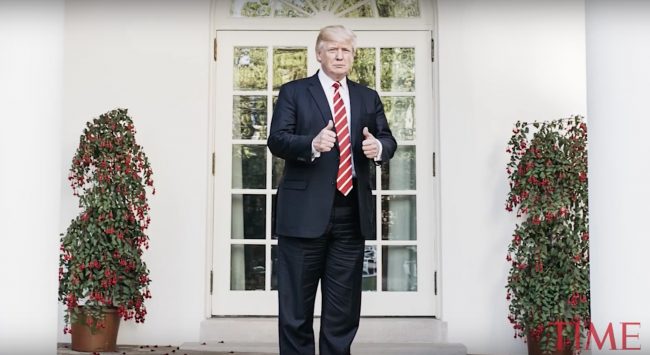 President Donald Trump has the lowest approval rating of any president at this point in his first term, hasn't built his wall that Mexico was going to pay for, failed at repealing Obamacare, hasn't negotiated amazing trade deals and has zero major legislative achievements. But we have to give credit where credit is due: Trump is making the Democratic Party great again!
Maybe when Trump declared during the campaign "we are going to win so much that you may even get tired of winning" he was referring to the Democrats. But if he was, we aren't even close to tired of winning. In fact, last night simply wet our appetite for next year's midterm elections.
The biggest race last night was Virginia. Let's be clear Trump, Steve Bannon and the GOP went all in there – and not just with their money but with Trump's bigoted playbook. Bannon bragged this past weekend that GOP gubernatorial candidate Ed Gillespie was going to win because he had embraced "Trump's agenda" and "talking points.", Gillespie who had once been vocally critical of those spewing Trump like anti-immigrant views, went full Trump. He ran ads scaring people about Latino immigrants. Gillespie even ran ad declaring that he would protect Trump's beloved Confederate statues that celebrate those who fought and killed to enslave black people as chattel.
Add to that, Trump tweeted numerous times praising Gillespie and even recorded a robocall to help him. Plus Republican leaders last week infused Gillespie's campaign with over $15 million dollars. (In contrast, the national Democratic party leadership donated less than half that amount to his Democratic opponent, Ralph Northam.)
But Democrat Ralph Northam not only won, he crushed Gillespie by nine points. Hillary Clinton only beat Trump by five in Virginia last year. In fact, Northam received nearly 400,000 more votes than what current Democratic Governor Terry McAuliffe did when he won in 2013.  The people of Virginia were fired up to send a message and they did-Thanks Trump!
And in New Jersey, Phil Murphy turned a red governorship blue with his 12 point trounce of Trump's BFF Chris Christie's lieutenant Governor, Kim Guadagno.  Now to be clear both Northam and Murphy did not just run anti-Trump campaigns. I interviewed both several times on my SiriusXM radio show and held a one hour Town Hall with each respective candidate. Murphy and Northam both offered a bold, progressive vision for how they would serve as governor.
But at the same time, both Northam and Murphy did make it clear they would stand up to Trump's bigotry. That combination is a formula Democrat should look to for next year because just being anti-Trump alone won't win the day. We also need to give people a reason to vote for us and Murphy and Northam did just that.
The Democrats big wins didn't stop there. In New York's Westchester County, two term GOP County Executive Rob Astorino got knocked off by Democrat George Latimer.  Before you shrug this race off as meaningless, keep in mind Astorino was very close with Trump- having been considered for a place in Trump's cabinet.  And just a few weeks ago GOP mega donor and Bannon buddy Robert Mercer invested over a million dollars to help Astorino. As Gov. Andrew Cuomo put it Tuesday night, "Rob Astorino is a fully financed subsidiary of Donald Trump."
Back in Virginia, Democrats stunningly picked up at least 15 seats in the Virginia House of Delegates and possibly could take control of that chamber after all the votes are tallied. Plus Virginia voters elected their first openly transgender state lawmaker with the victory of Danica Roem. What makes that win even sweeter is that Roem defeated Trumpesque incumbent Bob Marshall who was openly anti-Muslim and anti-LGBT.
In Washington state, a Democrat won a special election that now gives Democrats control of the state Senate and full control of the state government. In Maine, voters approved a ballot initiative that expanded Medicaid coverage under the ACA.  GOP Governor Paul LePage – another Trumper- had vetoed prior efforts at expanding Medicaid coverage.
And the list goes on of Democrats winning Tuesday night. My only hope is that Trump doesn't change a thing between now and election day 2018. Please Donald, keep tweeting. Keep lying on a daily basis. Keep attacking your fellow Republicans, the press, etc. Keep focusing on issues like forcing NFL players to stand up and requiring everyone to say Merry Christmas this holiday season. At this rate Democrats might not only win the House, but the U.S. Senate along with countless state houses in 2018. And if we do, we truly need to thank Donald J. Trump for making the Democratic Party great again!
This is an opinion piece. The views expressed in this article are those of just the author.