Mary Matalin: Rick Santorum's Views Aren't Extreme, 'He Just Doesn't Say It The Right Way'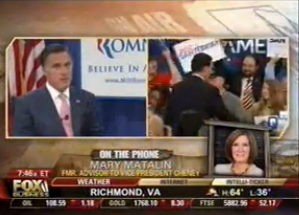 On Monday morning, Don Imus spoke to Republican strategist Mary Matalin about the GOP candidates, and more specifically, about how Matalin feels about Rick Santorum. Denying the charges of Santorum's "extreme" views, Matalin emphatically defended his stance on social issues.
Imus began by asking Matalin if she'd vote for Santorum, if he "somehow wound up" winning the Republican nomination. Matalin said she likely would, and then went on to say she likes "much of what he says":
If he says something that is fundamentally true, if we balance the budget tomorrow, we've reformed every entitlement tomorrow, we will not have healed what is fundamentally going in the wrong direction with this country, which is, as we previously discussed, a breakdown in the family. An increase in out of wedlock births, sort of a cultural degradation, diminution of virtues.
Matalin added Santorum isn't conveying his message in the right way, but underlined that it is the right message. "He doesn't say it the right way, I can hear what he's saying, I have a Catholic ear, but I can understand how people can hear it in a different way," She told Imus. "He's not the extremist. What do you think is more extreme, private opposition to contraception or public support for partial birth abortion? You tell me what's the more extreme position."
Imus remarked: "I hear ya. I'm with Billy Joe Shaver though. You know what Billy Joe Shaver says? If you don't love Jesus, you can go to hell."
Take a look, via Fox Business Network:

Have a tip we should know? [email protected]