Matthews Shut Down By GOP'er When Asked Why He Didn't Oppose Karl Rove In 2004: 'I Was In Iraq'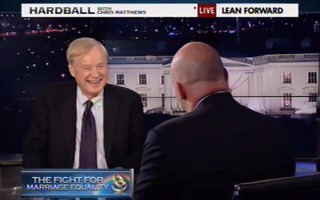 In a debate on his MSNBC program with a Log Cabin Republican over the GOP's historic opposition to gay marriage rights and the negative impact that is having on the party's electoral prospects, Chris Matthews was taken aback when he asked why his guest did not fight the actions of Bush-era political actors. Matthews laughed uncomfortably and shifted in his seat when his guest's answer to that question was that he was stationed in Iraq at the time.

At the start of the segment, Joan Walsh noted that Republicans fighting to "liberalize" their party are up against an establishment which is "hidebound" to a "white, conservative, Christian, very backwards base."
"It's worse than that, Joan," Matthews said interrupting her. He recounted a story from 2004 when Bush advisor Karl Rove and Don King rallied black ministers in Ohio to support a constitutional amendment which would define marriage as existing only between a man and a woman. Matthews said that Rove and his allies cost Sen. John Kerry (D-MA) the election as a result of that strategy.
"And that was an exploding cigar, and we're paying a price for that as a Republican party," said R. Clarke Cooper of the Log Cabin Republicans.
"Where were you then," Matthews pressed. "Did you fight Karl Rove?"
"I was actually fighting in Iraq," Cooper replied. "I was deployed in '04."
"Touché," Matthews said. "You win. You win the argument."
Matthews laughed as he thanked Cooper for his service and noted that response was a "very good alibi."
Watch the clip below via MSNBC:
> >Follow Noah Rothman (@Noah_C_Rothman) on Twitter
Have a tip we should know? [email protected]