GOP Pollster In Memo About Attracting Hispanic Voters: 'We Have To Admit It Is Us, Not Them'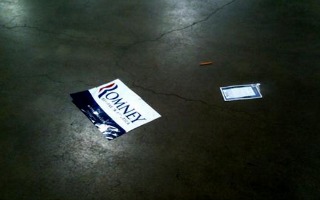 POLITICO reports Monday that the Republican National Committee has begun the process of officially reviewing the 2012 election cycle, determining what went wrong for the GOP and deciding on the necessary course corrections to make ahead of 2014. Among the hard choices that the GOP has to face is how it repairs its standing among Hispanic voters. As one GOP pollster noted, the Republican party needs to come to terms with the fact that "it is us, not them."

POLITICO notes that the 2012 postmortem is being conducted by advisers close to the Republican party during the last Bush administration.
The Growth and Opportunity Project is going to be chaired by RNC committee member Henry Barbour, longtime Jeb Bush adviser and political operative Sally Bradshaw, former George W. Bush press secretary Ari Fleischer, Puerto Rico RNC committee member Zori Fonalledas, and South Carolina RNC member Glenn McCall. Priebus, who is running for a second term, is holding a call with committee members to roll out the plan this afternoon.
Republicans not associated with official party committees are also reassessing the GOP's approach to the electorate and what they need to do to become a party that can win the national popular vote in presidential years again. Among those groups that require immediate attention are, according to one pollster, Hispanic voters.
"The Republican Party is in danger of becoming the 'Win In Off Years Only Party' unless we make a full-throated improvement with Hispanic voters," wrote GOP pollster Glen Bolger in a memo to Republicans. "And, we have to admit it is us, not them."
POLITICO writes that, not just the Republican party, but GOP Super PACs like Karl Rove's American Crossroads, are also conducting a thorough review to determine exactly what went wrong for the party in 2012.
Rove, along with PAC advisors and former Republican committee chairmen Haley Barbour and Ed Gillespie, met in Washington last week to discuss how the party failed to win the White House and lost Senate seats in 2012, and how the party can approach the 2014 midterms with changes in mind.
Read the full report via POLITICO
> >Follow Noah Rothman (@Noah_C_Rothman) on Twitter
Have a tip we should know? tips@mediaite.com