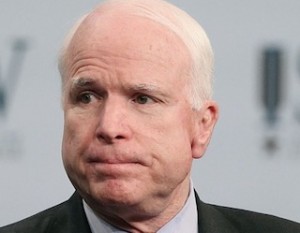 In an interview with Fox Business Network's Don Imus, Arizona Senator and 2008 Republican Presidential Nominee John McCain lamented Mitt Romney's poor performance in the 2012 Republican primaries despite being confident he would ultimately win the GOP nomination, "He has not done as well as we had hoped," McCain mourned.
"Is Romney going to win this?" Imus pressed.
McCain briefly hesitated, before answering his blunt question.
RELATED: Mitt Romney Uncomfortably Fidgets During John McCain's Joke-laden Endorsement
"I'm… very confident that he will … and if it's a comfortable margin and that's not clear. Um, then, I think it lends more of an atmosphere of inevitability that he will be the nominee and maybe we can get off of this and on to the real fight, which will be between Romney and Obama. But, some of our friends in the media are enjoying trying to prolong this as much as possible, and they will remain unnamed here…"
"Why?" Imus interjected.
"Well, look – MSNBC," McCain said. "Some of the pundits I was watching this morning – 'Well, he may not be able to get there if he doesn't do well in Wisconsin, blah, blah, blah.' I think he has got a solid lead. I think he has not done as well as we had hoped. None of us ever do in campaigns."
"Well, he's an awful candidate," Imus opined.
"That's not true," contended McCain.
"You don't think it's true, I think it's true," Imus countered.
"Well, all of us have our opinion," McCain shot back.
Watch McCain lament Romney's campaign below via FBN:

(
h/t Daily Beast
)
Have a tip we should know? [email protected]