McCaughey Vs. Ratigan: "One Of The Most Browbeating Interviews In TV History"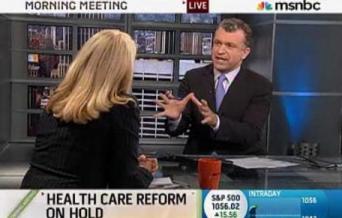 Betsy McCaughey (the former Lt. Gov. of New York and "Death Panel" term originator) debated Rep. Anthony Weiner about health care last night in New York City, and they went for an encore performance today on MSNBC's Morning Meeting.
But one thing they didn't factor in – host Dylan Ratigan. Weiner was left in the dust while Ratigan and McCaughey went at it for more than 12 minutes.
Ratigan hammered away at McCaughey for what he perceived as non-answers on her part. At one point around the midway mark she said, "You're not a very fair moderator, you know." Ratigan's response: "You're not a very fair answerer. So there you go. Okay? Takes one to know one."
You just don't get that kind of exchange on most cable news programs. There was also this:
McCaughey: You're not behaving like a moderator. You're behaving like a partisan.
Ratigan: I'm behaving like somebody not getting an answer to his question.
M: You haven't given me a chance.
R: I'm all ears.
M: That's right. Now you are all ears. Let me explain that current bills in congress not only…
R: You're not answering my question!
M: I haven't finished one sentence.
And so on. McCaughey summed up her thoughts with about two minutes to go. "This will go down in history as one of the most browbeating interviews in television history," she said.
"I hope that it does, and maybe you'll learn at that point then to answer questions as opposed to going on television and cast accusations," responded Ratigan.
The very end, which is where Weiner begins to get into his side of the argument (at one point he can be seen sitting with his head resting on his hands, watching the duel unfold), focuses about math and years and specifics. Still, the debaters got some fireworks going as well.
When it comes time for Ratigan's next on-air review, we'd imagine this interview will be cited. Still, Ratigan's quest for answers made for some good television.
Here's the full, nearly 14-minute debate/'browbeating interview', but the real fun kicks off around the 7:00 mark:
—–
» Follow Steve Krakauer on Twitter
Have a tip we should know? tips@mediaite.com