Mediaite Deep Dive: Hugh Hewitt Tells Never Trumpers To 'Find the Good and Praise It'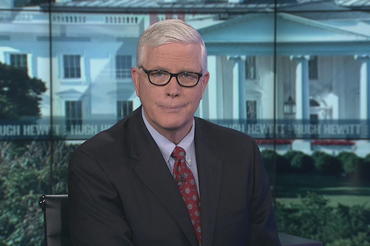 Earlier this summer MSNBC launched a new, Saturday morning political talk show hosted by long-time pundit and radio host Hugh Hewitt.  When the show was announced, Mediate theorized that "MSNBC may be looking to balance its coverage of the Trump administration with more right-of-center voices."  If so, that represents a huge shift in the cable news landscape, especially if Hewitt's star continues to rise and other conservative voices are included in the daily conversation on MSNBC.
As the Trump era marches on, Hewitt has found a way to walk the very narrow path between Trump sycophants and establishment "Never Trump" Republicans while still being an engaging voice that Democrats and Liberals may disagree with, but will still listen to with respect. His nationally syndicated radio program is a forum where both Trump officials (Anthony Scaramucci's first major radio interview while at the White House was with Hewitt) and Republicans opposed to Trump (Sen. Ben Sasse and Sen. Lindsey Graham are regulars) will receive a fair, challenging and high-profile forum.
Hewitt was on the forefront of the blogging revolution and foretold the stunning impact of Twitter on the hyper-fast political news cycle, has steadily grown into one of the most influential center-right media figures on traditional and digital platforms. He recently granted Mediaite an exclusive interview for the first of our "Deep Dive" series. The conversation covered the changing media and political landscape in the Trump era, Russian meddling, his advice for the #NeverTrump movement, and the sad, disaster that is Cleveland Browns football:
---
LARRY O'CONNOR, MEDIAITE: You're an author, radio host, columnist (WaPo), blogger, TV analyst and now TV host (MSNBC).  Which medium is the most  influential in Washington DC?  Which is more influential in the rest of the country?
HUGH HEWITT: All platforms matter, and the one with the most current news matters most.  I think talk radio done well –with an eye always on breaking news– wins for influence generally because it can keep pace with that breaking news. Cable is just a step slower and papers two steps behind.  Blogging and other social media can provide in-depth ("WarOnTheRocks for example, PragerUniversity.com, Mediaite etc") coverage and amplify focus, but Twitter is fastest, followed by talk radio done right, and then cable.  Fast and accurate wins when it comes to influence.  It is why I read POTUS tweets live as they occur on my morning drive show, and always keep the Washington Post, Times of London, New York Times, Wall Street Journal and Twitter open throughout the radio show every M-F from 6-9 AM.  The audience wants to know –all the time– if anything major has happened that can impact their lives. Salem Media management drives this mantra every day to every host: Breaking news must always win, even if it blows up a long anticipated segment or interview.  Always.  The audience demands it.
O'CONNOR: Given MSNBC's reputation as a left-of-center platform, were you surprised they offered you a program?
HEWITT:  I spent a decade as a co-host of a nightly news and public affairs show for Los Angeles' KCET, the then-dominant PBS affiliate in the Golden State.  This was 1992-2002, in essence doing with o-hosts Patt Morrison, Kerman Maddox and Reuben Martinez what cable news shows and talking heads do now 24/7, but before cable launched.  I left the show when my radio show moved to West Coast afternoon drive and I made it my priority. So going back to my TV roots was not surprising, and it works well with my radio show.  The skills sets learned back then and the 17 years of talk radio since have turned me into a professional question-asker.   MSNBC's prime time line-up is made up of smart, left-of-center progressives, but dayside news and other shows like Morning Joe, Nicole Wallace, the 11th Hour with Brian Williams have always featured the full spectrum of political opinions.  My show is consistent with commitment to that full spectrum.
O'CONNOR: How has the traditional "Right/Left" paradigm changed in the era of Trump?
HEWITT:  Very much. I think D.C. is run right now by a coalition government of sorts –the traditional center-right Congressional GOP (of which I am a part) and the "president's party" which is a unique, populist force that shatters the old party lines.  Example: President Trump carried my home county of Trumbull County, Ohio.  Why is that significant?  Here's the county's voting history:
Trumbull County
Clinton: 43,014 (44.8%)
Trump: 49,024 (51.1%)
Previous elections
2012: Obama (D): 60.6% – 37.6%
2008: Obama (D): 60% – 37.6%
2004: Kerry (D): 61.7% – 37.9%
2000:  Gore (D): 59.9% – 36%
That's not a "change." That's a political earthquake. The San Andreas fault in American politics starts south of Pittsburgh and runs up the PA-OH border and turns left along the Greart Lakes through OH, MI, WI and MN, and the aftershocks are still coming. Indeed 2016 might have been a foreshock.
How Washington DC is the modern-day Rome
O'CONNOR:  Your radio program now originates from Washington DC rather than Southern California as it had your entire career.  You've referred to DC as "Rome"… explain that a bit.  I mean, "Rome" was pretty decadent and corrupt…
HEWITT:  "Rome" from the late Republic through the end of the Empire was the most powerful place on the planet.  The ambitious wanted to be there and be in power.  Rome didn't win every battle, or even war, but it "made the weather" for centuries as does the Beltway today and will for decades and maybe centuries more at least.  Of course other cities and countries matter –in the U.S., NYC, L.A. and Silicon Valley int eh U.S. for example, and abroad all of the major capitals– but D.C. matters most.  By a long, long measure.  It is the best place in the world to originate a morning drive radio show.
O'CONNOR:   You have a pretty open and collaborative relationship with many of your fellow radio hosts (Levine, Hannity, Gallagher, Prager, etc.)  That's not the norm.  How has the current political climate altered the competitive environment in talk radio?
HEWITT:  All of these folks except Rush are personal friends. "The Great One" and I worked together in the Reagan Justice Department, and Dennis, Michael and I have been friends for decades, and Mike Gallagher has become a good friend as has Larry Elder.  I genuinely like these people and thus the friendship shows through.   I don't know Rush though he has always been a supportive force for me and many other talkers.  He in essence built the mall and is the most important anchor store.  I'm blessed to have a pretty good sized store in the mall, but all of the good ones –and you have mentioned them– enjoy and respect each other's work, and our different styles.  To the extent that the good national talkers succeed all of radio succeeds, and our idea agenda advances.
Hewitt on the "Never Trump" movement
O'CONNOR:  It seems to me that many conservatives who vowed to never support Trump have approached the past several months from a respectable and intelligent perspective; they've criticized the president when appropriate and maintained their intellectual integrity to push back on the hysterical and unfair left (and media) when it is richly deserved. However, some have dug in and become almost knee-jerk in their desire to pile-on the president. What's your impression of the "Never Trump" Republicans half-way through the first year of the Trump Presidency?
HEWITT:  I genuinely hope that "Never Trumpers" are not afraid to applaud the president when he hits a grand slam –Justice Gorsuch, his national security team, signing 14 Congressional Review Act statutes that a President Clinton would have vetoed, a cold, hard eye on the Iran "agreement"– and don't always feel the need to boo like a Philly fan when he strikes out.  Responsible journalism will keep a true score, recognizing it is the early innings, and avoid over-the-top proclamations of "Constitutional crisis" etc.  Its going to be a bumpy first term just as President Obama's two terms were bumpy, and W's before that.  America has real enemies –North Korea, Iran, Russia and most days the PRC– and we have to keep our eye on that reality.  We can't have some of our best minds constantly on "attack Trump" mode because they were #NeverTrumpers.  Some analysts who didn't vote for the president have already begun to take this approach –Guy Benson, Jonah Goldberg for example– and I hope others join them.  "Find the good and praise it" is on novelist Alex Haley's tombstone (Senator Alexander alerted me to that.)  Its a great rule for this and every president.
O'CONNOR: Is there an impulse in DC to be seen as one of the "cool kids"?  In other words, have "Never Trump" Republicans been able to enjoy a level of honor and prestige from the Left and establishment media and, if so, is that an enticing reward that many find hard to resist?
HEWITT:  People love approval, sure, but there are deep seated misgivings about the president that are sincerely held by many of his critics.  I don't disparage their sincerity.  I just hope everyone –left, right and center– keeps an accurate score.
Russia meddled and Trump beat Clinton regardless
O'CONNOR: Can one simultaneously believe that the Russian Government meddled with the 2016 election yet at the same time maintain that Trump won because of his message, strategy and because Clinton ran a disastrous campaign (as detailed in SHATTERED)?
HEWITT:  That's exactly what I believe.  I don't think Putin and his intelligence operatives who attacked our election had any idea that President Trump would win.  They aren't better at predicting American politics than Americans across the political spectrum are, and we in the media were all wrong, all surprised. I think Putin intended to bleed and weaken the individual he thought would be his opponent, Secretary Clinton.  I don't think he understood that a political earthquake was coming, and I don't think Putin elected President Trump or the GOP Congress.  I think Obamacare's massive and devastating impacts on average Amricans' financial stability and rising economic insecurity is the driver behind not just 2016, but 2010, 2012 and 2014 as well.  Commentators who refuse to link 2016 to Obamacare and the president's tough talk on the border, criminal gangs in our cities and many other issues are just refusing to do a serious job of analysis.
Would Hewitt serve in the Trump White House?
O'CONNOR: If asked, would you work for the Trump Administration?
HEWITT:  I haven't been asked and I doubt it very much that I ever will be.  But when patriots like Generals Mattis, Kelly, and McMaster who have served and served and served say "yes" yet again, I think every American has to be willing to do what they can if asked.  That said, I'm not going to be asked.
O'CONNOR: The Trump Presidency has been compared to the Nixon Presidency.  You knew and worked for Nixon (post-presidency.)  How are these comparisons wrong?  How are they right?
HEWITT:  The world is so very different now than from 1969-1974.  I worked for RN from 1978-1980 and again from 1989-1991.  We spent most of the first tour writing about the danger of the Soviet Union in the book The real War.  The second tour was while his Library was being built and the Wall shuddered and fell.  The problem sets are just radically different.  The Real War doesn't even mention radical Islam to illustrate one crucial difference.  The Library celebrated the breakthrough to the PRC, and I think RN would be deeply disappointed by the PRC's refusal to corral North Korea now.  Social media has accelerated every story and amplified the extremes of both parties.  The Supreme Court battles that Nixon fought were as consequential as those of today but very few people paid much attention then.  Etc Etc Etc.  So we might as well look to Ike, FDR, and every previous president as to RN.  Facile comparisons to Watergate, for example, because Archibald Cox and Robert Mueller both had "special" in their title doesn't reflect well on the commentators making them.  A little –no, a lot– of reading would help everyone in the news business.
Have I mentioned The Looming Tower by Lawrence Wright as a good place to start?
O'CONNOR:  How can your audience take your political observations seriously when you continue to promote the Cleveland Browns as being just one or two moves away from a Super Bowl?
HEWITT: I was almost alone on election night 2004 predicting calmly that George W. Bush would in fact win even as corks popped at Kerry HQ.  Once again I am alone and unafraid.  Super Bowl LIII for the Browns in January 2019. #GoBrowns #TrustInHue #BrockIsBack
This is an opinion piece. The views expressed in this article are those of just the author.