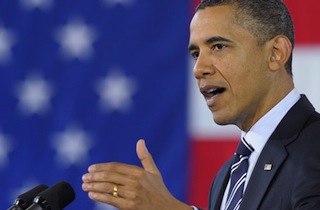 Every a.m., Mediaite publishes a primer of what the interweb machine is writing, talking, tweeting, and blogging about, so that you may fool friends and family into thinking you are a trove of information and insight. Today: Obama moves on "dark money," why some states' healthcare exchange websites are working so well, the public supports the Iran nuclear deal, and more.

"Obama Seeks Limits on Tax-Exempt Groups" (Ben Goad and Bernie Becker, The Hill)
The Obama administration is moving to set limits on 501 (c)(4)s, political action committees that can take vast amounts of money without disclosing their donors. The administration said it hopes to clarify the vague rules, which many believe led to the IRS scandal that struck the administration last spring, over how much a group had to engage in "social welfare" to qualify for 501 (c)(4) status. The new rules will make political advertisements, get out the vote efforts, and candidate-related activities disqualifying, which would have significant ramifications for non-profits.
Not surprisingly, tea party groups denounced the move as an attempt to squash political discourse, while campaign finance watchdogs praised the decision as a good first step.
"State Successes Show Health Law Can Work" (David Nather, Politico)
The first half of David Nather's article is pretty boilerplate "Obamacare's gonna work eventually!"—which isn't to say it's at all inaccurate—but it's the second page where he gets into the details of why some state exchanges are working while others, and the federal government's, are not, an analysis for which this humble scribe has been asking for a while.
Long post short: states with functioning websites built upon existing infrastructures, and ditched the bells and whistles to focus on functionality—while the federal government constructed Healthcare.gov from scratch and made the bells and whistles (like registering before you could shop for plans) a requirement of engaging with the site. Highly recommended.
RELATED READING: "Is Obamacare Turning the Corner?" (Ezra Klein, Washington Post)
"Appointmentpalooza in the Senate? Don't Bet on It" (Molly Ball, The Atlantic)
So now that Harry Reid (D-NV) Hiroshimaed the filibuster, Democratic nominees can bum rush the Senate, right?
No so fast, says Molly Ball: cloture was only the most visibly frustrating impediment to filling government and judicial vacancies. While the elimination of the non-talking filibuster may move a couple of high-profile nominees through—some of whom have been waiting almost 200 days for a vote—many nominees will still be stuck in a sluggish process for some time.
Iran Nuclear Deal, the Good News: "Americans Back Iran Deal by 2-to-1 Margin" (Matt Spetalnick, Reuters)
Americans support the new Iranian deal, according to a Reuters/Ipsos survey, less out of trust of the Iranians and more out of a desire to avoid military conflict. The poll found 44% approved of the deal, versus 22% who disapproved. Furthermore, if the Iranians don't follow through, a vast majority want either harshened sanctions or further diplomacy, with only 20% supporting military intervention.
Iran Nuclear Deal, the Bad News: "Iran Will Continue Construction at Arak Nuclear Site" (Reuters)
And we might have good reason already to doubt that the Iranians will hold up their end of the deal. Reuters also reports that Iran will continue with piecemeal construction of its nuclear reactor at Arak, despite a stipulation in this weekend's agreement that it would halt work on the underwater reactor. Iranian Foreign Minister Mohammed Javad Zarif said work on the site's "capacity" will continue, though no advancement on the production of actual nuclear activity will occur. A loophole in the agreement may allow Iran to construct components of the reactor offsite.
[Image via AP]
——
>> Follow Evan McMurry (@evanmcmurry) on Twitter
Have a tip we should know? [email protected]