Mediaite's Noah Rothman Talks Guns, Race, Immigration And Obama's Budget On Current TV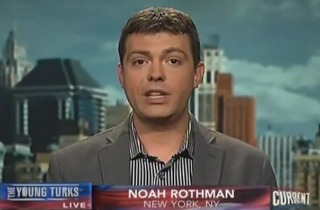 In a Wednesday evening appearance on Current TV's The Young Turks with guest host Michael Shure, Mediaite editor Noah Rothman tackled a variety of controversial subjects – from race and Sen. Rand Paul's (R-KY) outreach to African-American students to immigration reform to President Barack Obama's budget proposal.

RELATED: Mediaite's Kirell, Rothman, And Christopher Battle Over NRA Proposals On The Young Turks
The conversation began with a debate over the highlights of a budget proposal released by President Obama this week. The panel guests said that Obama risked alienating his base by proposing what some of the panel guests considered unnecessary cuts in government spending.
"I heard pundits say today that if you're taking flak from both sides, you must be onto a good idea," Rothman began. "Not necessarily. You may just have a really universally bad idea."
Rothman called Obama's budget a "political document" which included some serious proposals, but also "progressive wish list items" like universal pre-kindergarten education funded through a national cigarette tax. He noted, however, that Republicans have a "schizophrenic" message on entitlement reform and they risk ceding a political advantage to Obama by opposing his modest entitlement reforms.
The conversation turned to gun control and the fight over new gun laws in Congress. Rothman came out strongly against the "emotionalism" that has characterized the debate over new gun laws. "Emotionalism is not a good way to form public policy," Rothman said.
He added that the compromise legalization which is being debated today is the most moderate and watered-down form of gun control that proponents of new gun laws will accept, suggesting that the momentum in the gun control debate is on the side of its opponents. He added that compromise legislation is as much a boon to vulnerable democrats, who are spared the choice between a vote that would offend either their liberal base or their electorally critical moderate constituents, as it is for Republicans.
Moving on to negotiations on Capitol Hill surrounding a comprehensive immigration reform plan, Rothman detailed what were then emerging specifics of the so-called Gang of Eight's plan. He agreed with Shure who had suggested that Sen. Marco Rubio (R-FL) could be doing more to protect his political profile than for immigration reform.
"The details of this proposal are not very palatable on the right," Rothman said. He said the details of the plan, including a 10 year wait for immigrants to apply for legal status and only then after an arbitrary amount of boarder security is achieved. "The bottom line is Republicans want a political victory here, and they're eager to get it any way they can," Rothman continued.
Finally, the panel tackled Paul's appearance this week at Howard University and the Republican Party's outreach to minorities in general, Rothman was asked about the discrepancies between what the Kentucky senator said about civil rights legislation in the past and what he said before that group of students.
Rothman criticized Paul for approaching the issue of civil rights legislation and its constitutionality from a "heady" and "academic standpoint."
While he said that Paul would benefit strategically if he approached the issue of civil rights from a forward-thinking perspective, Rothman noted that Paul did his political brand and his party justice by appearing before the predominantly black audience at Howard University:
> >Follow Noah Rothman (@NoahCRothman) on Twitter
Have a tip we should know? tips@mediaite.com