Megyn Kelly Panel Erupts Into Shouting Match Over Which Candidate Lies More In Their Ads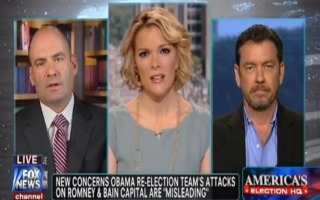 On Tuesday, Fox News Channel's America Live with Megyn Kelly hosted a panel discussion over the truthfulness of the Obama campaign's ads attacking Mitt Romney for outsourcing jobs while he ran the private equity firm Bain Capital. A debate between conservative radio host Chris Plante and former aide to Sen. Charles Schumer (D-NY) Chris Hahn descended into a shouting match when the two argued over which candidate was not telling more the truth in their television ads.

RELATED: Megyn Kelly Repeatedly Schools Democratic Guest During Debate Over Arizona Immigration Enforcement
Kelly said that Mitt Romney's campaign is calling a pro-Barack Obama ad which paints him as a corporate raider and an "outsourcer-in-chief" a "vicious lie." She aired a Fox News Channel report that cites FactCheck.org claiming that the ad misrepresents Romney's activities at Bain and said there was "no evidence" that Romney presided over the outsourcing of jobs.
Kelly asked Hahn why the Obama campaign continues to press ahead with attacks on Romney's record at Bain and even pushed back against FactCheck.org for claiming that the Obama team's ad was factually incorrect.
"If it works, keep doing it. That's the way politics is," said Hahn. He went on to say that Romney has to offer a complicated response to the claim that he never outsourced jobs. "Every time Americans pick up the phone and they get a call center operator from India, they can thank Mitt Romney for that, in part, because he was very much at the forefront of creating those kinds of atmospheres around the world."
Kelly asked Plante if Hahn had a point and whether he thought voters might simply associate "outsourcing, Bain, corporate greed, Mitt Romney."
"It would be nice if the Democrats and the Obama campaign had any regard for the truth, but we can't rely on that so we'll have to go to plan B," said Plante. He went after Hahn for saying that if it works it doesn't matter whether the attacks were factually misleading. "But the Democrats don't care," said Plante. "They see it as effective. They don't really have any relationship with the truth here."
Hahn said that Romney's primary campaign against his fellow Republicans was mostly negative and he was even accused of outright lying by some of his opponents. "I always find it funny, now that Mitt Romney is getting the same treatment back to him, how he whines and complains and demagogues about it…"
"So you're conceding these are lies, right," Plante interjected.
"I don't think they are lies," Hahn fired back.
"Mitt Romney wants you to define what the definition of is is," said Hahn.
"No, that was your guy," Plante replied.
Kelly asked Hahn if he rejected the Washington Post reports that called into question the Obama team's ads on Bain's record relating to outsourcing. "I do," said Hahn.
Plante went on to say that the same issue of the Washington Post that criticized Romney for outsourcing, which the Romney campaign asked to be retracted, the paper gave "four Pinocchios" to the Obama team's outsourcing ad.
"If we only had an honest news media or networks that wouldn't knowingly run lies from political candidates, I think we would have a better, cleaner, more civil political discussion in this country," said Plante.
"When Romney agrees to stop lying maybe we will stop having to split hairs on his record," said Hahn. "Every word out of his mouth has been a lie. Every word. Mitt Romney has not told the truth once this entire election season."
Watch the segment below via Fox News Channel:
> >Follow Noah Rothman (@Noah_C_Rothman) on Twitter
Have a tip we should know? tips@mediaite.com