Megyn Kelly Repeatedly Schools Democratic Guest During Debate Over Arizona Immigration Enforcement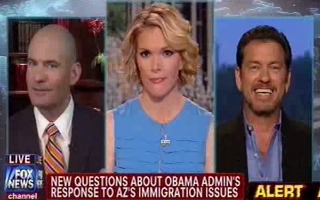 On Fox News Channel's America Live with Megyn Kelly on Wednesday held a panel discussion on the impact of the Department of Justice scaling back the enforcement of criminal law in Arizona if those suspected of a minor crime are illegal immigrants. In that segment, former Democratic aide Christopher Hahn and conservative radio host Chris Plante engaged in a heated debate over the matter, but it was Kelly who corrected most of Hahn's arguments over the course of the segment.

RELATED: Megyn Kelly And Guest Manufacture Outrage Over Reporters Questions To Obama
Kelly played a clip of conservative radio host Rush Limbaugh calling this move on the part of the administration of President Barack Obama a "message to every other state on the border." "It's good, old fashioned political Soviet-style intimidation," said Limbaugh.
Kelly noted that the administration won and the supreme Court struck down three of the four parts of Arizona's contested immigration law. She thought they could have simply declared victory on the matter. "Did the Obama administration need to do this," Kelly asked Hahn.
"Rush has got this all wrong," said Hahn. "They're still going to send help if there are criminals involved in immigration stops…"
"Not if they're convicted felons," interrupted Kelly.
Kelly and Hahn engaged in crosstalk before Kelly stopped the discussion and clarified for the audience that only certain arrestees are subject to federal charges — felons, the recently deported or recent illegal border crossers. "Everyone else they're ignoring," said Kelly.
"Right," said Hahn. "They're not coming to the aid of a guy who blew a stop sign who might be here illegally. But I don't think that guy is a danger to America." Hahn said that Limbaugh's comments are an attempt to get his name back in the papers now that the controversy surrounding Sandra Fluke has toned down.
"How is this about Rush and not President Obama," Kelly asked.
Later in the segment, Hahn charged that the Justice Department does not trust Arizona's immigration enforcement official to properly enforce the law given their recent rhetoric.
"What is the rhetoric? Because there has been no rhetoric – you know, two days ago, it was fine to cooperate with Arizona and now it's not," said Kelly.
She noted that the administration did not challenge S.B. 1070 as a violation of civil rights. Hahn corrected her and claimed that the government did challenge the law as a violation of civil rights, at which point Kelly again shut Hahn down.
"I had a different reading of it," said Hahn.
"No," Kelly replied. "There is no different reading of it."
Watch the segment below via Fox News Channel:
> >Follow Noah Rothman (@Noah_C_Rothman) on Twitter
Have a tip we should know? tips@mediaite.com