Melissa Harris Perry And Michael Steele Wage War On Crazy Internet Commenters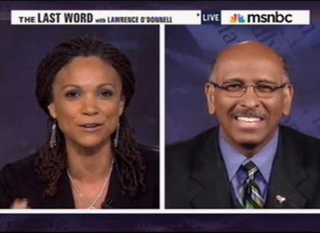 With Tulane professor and MSNBC contributor Melissa Harris Perry at the helm today on The Last Word, the program has put a fair amount of emphasis on civility, today dedicating an entire segment of the show to getting along. The premise: the anonymity of the internet has given people like Perry's crazy Uncle Fred the freedom to say offensive and hurtful things that hurt the political discourse. To give them an example of how to conduct a proper discussion, Perry found common ground with former RNC Chair Michael Steele, who made sure to emphasize that it isn't his side that's doing all the insulting.
The reason for the segment specifically was a post by a Tea Party chairwoman on Facebook, where she made a joke about throwing the President and First Lady out of an airplane. The internet, Perry contended, "provides a certain shield of anonymity" that allows for a nastiness that was previously not indulged. Harris Perry introduced the segment with an example of how to behave with members of the opposite ideology, noting how well she has gotten along with Steele despite their differences (and showing an adorable photo of her daughter and friend with the former RNC chair).
Steele agreed with her premise, though added that "it has been going on for a while" and that, in 2006, he experienced being called a "slave" by Democratic opponents during his Senate campaign by "some how are current members of Congress." "This has been pretty much standard fare for those of us who are black Republicans," he argued, and condemned it as "bringing down the dialogue." Steele also encouraged internet commenters to attack those who are bringing it down: "the more we push back against the stupidity, the better off we will be in the long term."
Perry compared those attacks to some from the right claiming African Americans were "on a plantation" with the Democrats, and expressed her frustration once more. "It feels like we're trying to have a conversation about standing up for community interests," she noted, but it seems impossible to "without degrading Uncle Tom by calling him a Republican." Steele shared in that frustration, noting that in his tenure he had often been told not to bother with people who disagreed with him, but resisted the instinct: "how do you get them to agree with you if you don't talk to them?"
The segment via MSNBC below:

Have a tip we should know? tips@mediaite.com