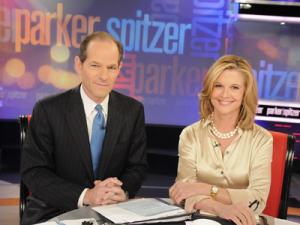 Amidst reports that CNN is eager to shake-up the relatively new, but ratings-starved, Parker Spitzer, by dumping Kathleen Parker and giving Eliot Spitzer a new co-host, I politely suggest the exact opposite strategy would better ensure the show's longevity. With the ratings for Parker Spitzer consistently placing it in last place among cable news networks at its time slot, and often last among CNN's own primetime lineup, the evidence is clear that the show's current format is not clicking with audiences. Change is a good idea. Keeping Spitzer is not.
The problem with Spitzer is that despite many thinking his preparedness and intelligence makes him good on television, viewers are still not compelled to watch him night after night. And let's face another fact, this show is dominated by him, and it is so even when he's not intentionally trying to command the conversation. Just check out the clip below from last night where Spitzer and guest Governor Tim Pawlenty are laughing about football and Parker politely, then more emphatically, needs to lean forward to get the Governor's attention for her serious question. Parker's sophisticated arguments and subdued cleverness are more often than not shoved aside by Spitzer's hard-charging brashness.
To more specifically theorize about the rationale behind an audience rejection of Spitzer unfortunately requires revisiting old wounds. The likely problem is the elephant in the room, the fact that asking a national audience to invest their time and attention in a man they primarily associate with scandal is a bit too much to ask, and at the very least, a bit too soon. Though there was potential for Spitzer's albatross to be overlooked, such a courtesy only would have been extended if the Parker/Spitzer dynamic was so electric and entertaining that it created compelling and insightful television. It did not. Instead, the awkward chemistry between the two resembles the parents of children who can barely tolerate each other, but are sticking it out until the kids move out of the house. Parker herself has admitted there is "editorial and political tension" behind the scenes, but is willing to work through it.
Why then am I so quick to defend Parker rather than advocate scrapping the show entirely? Parker in the past demonstrated a unique ability to calmly and convincingly debate with liberal commentators as an outnumbered frequent conservative guest on The Chris Matthews Show, fearlessly led many conservative voices during the 2008 election by claiming Sarah Palin was not qualified to be John McCain's running mate, and consistently writes thought-provoking columns. CNN needs to differentiate itself from the larger-than-life personalities of Bill O'Reilly and Keith Olbermann and what better way than with the unique perspective Parker can offer, but that currently is drowned out. If Spitzer was replaced with someone totally new to the national stage, like maybe another insightful newspaper columnist or maybe even the eager to be a TV star Governor Ed Rendell, then audiences would properly have an opportunity to judge Parker and her talents. While the ratings might struggle at first, an effort by CNN to have a nightly calm and reasoned discussion with various political views led by Parker just might surprise everyone and be CNN's antidote to their more partisan and successful time-slot competitors.
However, if CNN absolutely insists on ignoring this advice and keeping Spitzer with the belief that his bigger name will garner larger ratings, then at least make things interesting and pair him with someone like Ann Coulter. Actually, if ratings is all they want, then dump Spitzer too and hire former Governor Blagojevich. Imagine a Coulter/Blago show – now that's a combination that would be sure to get some ratings! And as crazy as that sounds, realize that many had the same reaction when Spitzer was first mentioned as a candidate for the job.
Enjoy the Parker Spitzer duo while you still can in the clip from CNN below:

Have a tip we should know? tips@mediaite.com