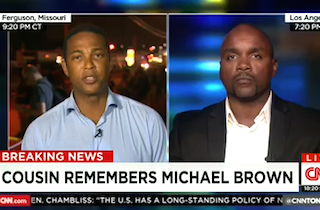 On Thursday night, Ty Pruitt, a cousin of Michael Brown's, gave an interview to CNN's Don Lemon, insisting that his cousin was not the "criminal" Ferguson police are making him out to be.
"The first time I saw my baby cousin again he was laying in a pool of his own blood on Facebook. That split my heart in two," Pruitt told Lemon. "And then the fact that after that situation I looked on the news and my city was burning down. That broke my heart."
"I've been watching CNN for days on end, just days on end. And I've been listening to all the experts and I just really think some of the people need to kind of step back and think about what they're saying," he said. "For instance, I was listening to, just earlier today, I was listening to some of these police experts and basically what they're saying is that they tell their policemen to shoot to kill, shoot until the threat is gone. Doesn't matter if they're armed. So what that's telling me is, honestly, you're trying to start a war."
On the recently refuted rumors that officer Darren Wilson, who shot and killed Brown, was treated for a broken eye socket, Pruitt asked, "Do police not go through defensive training?"
"You can look into young Mike's background all you want," he continued. "At the end of the day, when we come to that moment, that second that he was killed, he was not a criminal. He didn't have any weapons on him."
Even regarding the cigarillos that Ferguson police say Brown can be seen stealing in the convenience store surveillance video released last week, Pruitt said his cousin actually paid for them, a claim that has been made by others who have examined the tape.
"So my question is, why was he attacked?" Pruitt asked. "Let's go ahead and flip that for a minute, why was he attacked? See, we keep talking about why this officer was attacked. Why was Michael attacked?"
Watch video below, via CNN:
[Photo via screengrab]
— —
>> Follow Matt Wilstein (@TheMattWilstein) on Twitter
Have a tip we should know? tips@mediaite.com