Michael Moore: Dems Should Tell GOP 'We Will Negotiate When You Take Your Tin Foil Hats Off'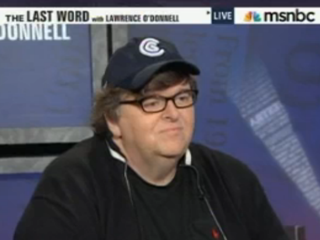 Filmmaker/activist Michael Moore made his return to cable news today on The Last Word, and, thankfully, he didn't stray back to bin Laden territory. Instead, Moore and Lawrence O'Donnell Ryan budget plan, and while both O'Donnell and Moore made clear they stood staunchly with the Democrats on this topic, both expressed near certainty that they would back down.
Moore told O'Donnell he found it outrageous that the abolition of Medicare was even up for discussion, comparing the creation of a budget to that of a new criminal code. "When you're writing the criminal code, you don't say 'oh murder, theft, everything is on the table!'" What they should do, he argued, was tell Republicans, "we will negotiate when you take your tin foil hats off" and not budge on any issue that was fundamental to their platform. That the federal government would keep a health care system open that has been around for decades, to Moore, was not up for negotiation.
With that in mind, O'Donnell went straight to the point: "How will the Democrats blow it?"
Moore acknowledged that the Democrats had a unique talent for "snatching victory out of the jaws of defeat," and he repeated that he already saw the way it would happen: "if they imply that Medicare is for discussion, that will give the crack of light Republicans need to go after them." He explained the tactic as Republicans later asserting that they were not alone in the effort, for example, "'We're not the only ones who supported the war!'"
Moore also chatted a bit about potential Republican nominees. He appeared particularly impressed with Jon Huntsman's mild support of gay rights. Hearing statements of support from a Mormon former governor of Utah, he joked, "is like hearing me say 'Hey let's go run 10 miles after the show!'"
The segment via MSNBC below:

Have a tip we should know? tips@mediaite.com