Michelle Malkin's Advice For Romney: Don't Call Obama 'Nice,' Administration Has Many 'Victims'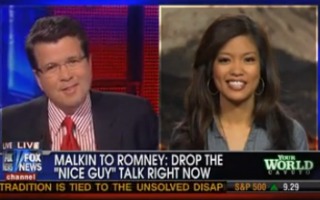 Conservative pundit Michelle Malkin told Fox News' Neil Cavuto Thursday afternoon that presumptive GOP nominee Mitt Romney would do well to cease referring to President Barack Obama as a "nice guy."
He needs to "deprogram those words from his mouth," said Malkin, if he wants to "sell himself to the American people beyond the Republican party" because voters beyond the GOP base have realized that Obama is "not a nice man."
RELATED: Morning Joe Praises Romney For Hitting Obama With 'Feather Of Kindness,' Advises Ted Nugent To 'Get Over It'
She explained:
There have been many targets of the Obama administration that do not have "R's" by their name. And these include victims from the Delphi non-union workers who were cut out of the UAW bailout, to many independent inspectors general who've been run out of their jobs for telling the truth about corruption and lack of ethics over the last four years, to many whistle-blowers in many agencies — and, of course, chief among them the ATF. People who have nothing to do with partisan politics who've seen the viciousness and brutality of this administration in crushing both its political opponents and otherwise.
Cavuto asked whether voters should be careful that the President is not as he appears when he is "laughing and yuckin' up, whatever, and he's singing and all that."
Malkin said yes and that, furthermore, he also puts himself in a position to be judged based on the company he keeps, like "big labor thug" Jimmy Hoffa, who used profanity when introducing Obama last year.
When Cavuto asked Malkin to "say something nice" about the President, the way, for example, candidates are sometimes asked to do while campaigning, she replied that she simply "know(s) too much about him" to think of a compliment.
Have a look, via Fox News:
Have a tip we should know? tips@mediaite.com