Michigan GOP Senate Candidate In On-Air Battle With CNN's Brooke Baldwin Over 'Birther' Issue
GOP Senate Candidate In On-Air Battle With Brooke Baldwin Over 'Birther' Issue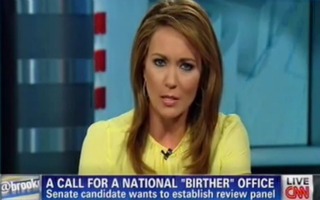 Former Michigan congressional representative and current Republican candidate for Senate, Pete Hoekstra, is taking heat for suggesting that the Congress establish an office for future presidential candidates to prove that they were born in the United States. On Wednesday, CNN anchor Brooke Baldwin took Hoekstra to task for his seeming embrace of "birtherism" in a combative interview.

RELATED: CNN's Brooke Baldwin Takes Tony Perkins To The Woodshed: 'Why Do Homosexuals Bother You So Much?'
"The birthers just can't let it go," said Baldwin. "Folks, it's been more than a year since President [Barack] Obama released his long-form birth certificate… but it is still not good enough for some people."
Baldwin asked Hoekstra if it was necessary to establish an office despite the fact that proponents of the theory that President Obama was not born in this country have been unable to come up with any supportive evidence.
"It is a proposed solution," said Hoekstra. "Whether it's an office, whether it's the responsibility of some other organization." He said that he is required to fill out numerous forms in order to run for office and presidential candidates should be required to do the same.
Baldwin said that this would be another layer of bureaucracy to the government and should be antithetical to Republican theory of small government. "Doing a simple certification is not a difficult thing to do," responded Hoekstra. Baldwin said that to propose a solution implies there was a problem – but Hoekstra repeated that Obama is a legitimate president and the legitimacy of his birth certificate is not in dispute.
Baldwin moved the interview to a questionable ad that Hoekstra ran that featured an Asian woman accusing his Democratic opponent, Sen. Debbie Stabenow, in broken English of mortgaging America's future to China.
"Critics called you a racist for that ad," said Baldwin. "Do you realize that critics might use this office — this proposal for this office — as further proof?"
"No," said Hoekstra. "I don't know why they would call that – and take it in that direction. Absolutely not."
"Excuse me, you're taking this [interview] into an area where I see absolutely no connection at all," Hoekstra continued. When Baldwin continued to use the word "birther," Hoekstra called it an "outrageous term" and refused to answer further questions.
Watch the segment below via Fox News Channel:
Have a tip we should know? tips@mediaite.com