Mika Spars with Trump: No One 'Misunderstood Your Words' on Mexican 'Rapists'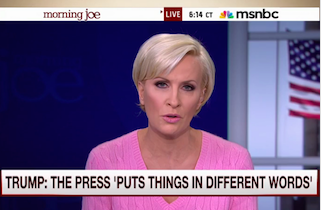 When Donald Trump joined Morning Joe by phone on Wednesday, host Mika Brzezinski was determined to get some definitive answers out of him on issues like the Iran deal, which he opposes vehemently (but hasn't actually read) and his true feeling about Mexican immigrants, who he characterized as "rapists" in his campaign announcement speech and has been facing the consequences ever since.
Midway through the interview, Brzezinski asked Trump if he has any "regrets" thus far in his campaign. Instead of showing an ounce of contrition, Trump turned the question around, saying the "one thing" he's learned is how "really dishonest" the political media can be.
"They don't want to print the truth, they don't want to say what you said, they don't want to say what you mean," he continued. "They know what you said, they know what you mean, and they put it in totally different words. It's like you didn't say it and it's incredible to me."
This point prompted Brzezinski to push back and pivot to the controversial statements to which Trump was so clearly alluding. "Let's just go there, since you're going there, because I don't think it was just the media that misunderstood your words, if that's how you put it," she said. "I think some people really understood what you were saying to be Mexican immigrants are rapist and murders."
"No, I didn't say that," Trump shot back, once again insisting that he was directing his ire not at Mexican immigrants but instead at the Mexican government, who he claims is "sending" criminals into the U.S.
What he originally said about Mexican immigrants, for reference, was, "They're bringing drugs. They're bringing crime. They're rapists and some, I assume, are good people."
When Brzezinski could once again get a word in, she went directly at the issue, saying, "I'm asking if you can help me out here and answer the question. Do you believe that Mexican immigrants are rapists and murderers?"
Trump declined to answer yes or no, but instead said that "illegal immigrants are causing tremendous problems" and called the situation at hand a "crime wave" and a "disaster." He then switched gears to demonstrate how much he "loves" Mexican people, adding, "I have hundreds and hundreds of Mexicans working for me."
From there, Mark Halperin took the reins of the discussion, challenging Trump to reveal his "five different sources" who told him Mexico is "sending" people over the border. "I'll reveal my sources when you reveal your sources, Mark," Trump shot back.
Watch the full segment below, via MSNBC:
[Photo via screengrab]
— —
>> Follow Matt Wilstein (@TheMattWilstein) on Twitter
Have a tip we should know? tips@mediaite.com