Mitt Romney To ABC News: 'Very Pleased With Some Polls, Less So With Others'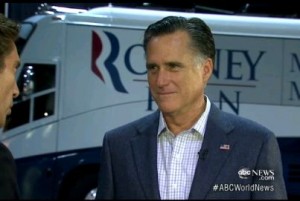 In an interview with ABC's David Muir earlier today, Republican presidential candidate Mitt Romney brushed aside the idea that a leaked video of him talking about the "47 percent" of Americans who don't pay taxes is a factor in recent polls showing President Obama with a big lead over Romney in key swing states. Romney said that he is "very pleased" with some of the polls, and "less so" with others, but he's still confident in his chances of winning in November.
RELATED: Rachel Maddow Mocks Mitt Romney Campaign's Denial About Polls
Muir asked Romney if his now-infamous "47 percent" video has factored in to him falling behind Obama in the polls. Romney said he's been "very pleased with some polls, less so with other polls," adding that the campaign's still in an "early stage" where the polls will keep going up and down. Muir directly confronted Romney about the leaked video, and specifically his charge that he would never be able to convince 47 percent of Americans to take greater personal responsibility. Romney attempted to defend his comments.
"I don't expect to get 100 percent of the vote. I'm not going to get 100 percent. I hope I get 50-plus percent and make sure I become the next president."
Muir brought up Ann Romney's recent strong response to the conservative criticism of her husband's campaign. Romney said that his wife doesn't like it when he is under attack, but the candidate insisted that he's "just fine."
Watch the video below, courtesy of ABC:
Have a tip we should know? tips@mediaite.com
Josh Feldman - Senior Editor