Morning Joe Ignores Halperin Flap, But Did Another Control Room Flub Reveal Tension?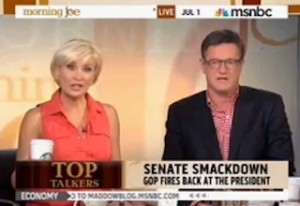 The Morning Joe crew opened today's show as normal, with nary a mention of the Mark Halperin flap from yesterday. You know, it's the classic story in which a morning show contributor notoriously calls the sitting president a "dick"; quickly apologizes, then gets suspended immediately? That one.
Two minutes into the show, however, a slight miscue in the control room appeared to reveal some frustrations that hosts Joe Scarborough and Mika Brzezinski might be having with the show's producers.
Now, long time viewers of Morning Joe know that there is always some healthy tension between on-air talent and those in the control room, which is a tried and true comedic device that Scarborough and Brzesinski often use to great effect. And this instance isn't all that different from nearly every other instance of the chiding that the viewer typically sees. There is a bit more to the story, however.
Morning Joe has a new Executive Producer, Alex Korson, who has been with the show for some time, but recently replaced long time show runner Chris Licht, who left in May for an executive position at CBS. This is not to suggest that Korson has raised the ire of the show's hosts, but given the negative attention the show received yesterday, in large part due to miscommunication between control room and on-air talent over a "delay button" not being pressed, I would imagine that the whole Morning Joe crew are very much looking forward to the holiday weekend.
Watch the clip below, courtesy of MSNBC:
Have a tip we should know? [email protected]