Morning Joe Rips Sen. Lindsey Graham On Sequester: 'Should We Have An Intervention?'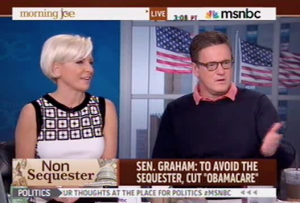 Morning Joe kicked off the week with some talk about the talk about the automatic spending cuts known as the sequester. Particularly, the panel looked to Sen. Lindsey Graham (R-SC) who suggested putting Obamacare on the table. Noting that Graham seems to chime in on just about everything, Joe Scarborough asked: "Should we have an intervention?"
"He needs cameras, and likes to be on TV, and has a lot to say," Mika Brzezinski quipped.
"We poke at Lindsey a lot, it's not personal," Scarborough noted. "I just disagree with him on a lot of issues. But should we have an intervention? Should we give him a call, or should we call somebody in the Senate?"
Perhaps a "series of countdown clocks," Mark Halperin suggested, counting down to who knows what.
But they digressed, somewhat, looking to his actual suggestion about putting the health care law on the table. Graham said it's destroying America, Scarborough noted, but "doesn't that not get implemented until 2014? I'm just curious." That's true for most of it, the crew chimed in.
"Because really, how can a bill destroy America when it's not even in effect?"
…And then as they sought to move on to the next story, Scarborough couldn't help but come back to his original point about Graham having something to say about everything — questioning whether there's only one Republican in Washington who can do Sunday shows. Sen. John McCain (R-AZ) is a good option, he added (though McCain himself has been quite a fixture on Sunday shows himself).
Take a look, via MSNBC:

Have a tip we should know? tips@mediaite.com