Morning Joe Tackles 'Truce' In Budget Fight: 'The Press Hates Even A Small Reduction' In Spending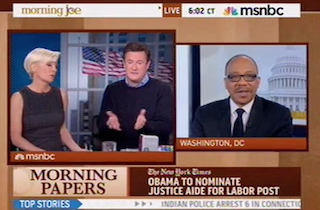 With both sides actually sitting down together and talking, some are wondering (and hoping) whether there might a budget deal in our near future. Is peace breaking out? The Morning Joe panel was rather optimistic about a looming compromise. Though Washington may be exhausted, not everyone was seeing the glass half full.
Joe Scarborough took House Speaker John Boehner saying he trusts the president as a particularly good sign, arguing that it's not something he would have said six months ago.
"Thank heaven for small favors, right?" the Washington Post's Eugene Robinson remarked. It shouldn't be news, he added, that the president and Congress think a deal would be a good idea at some point. But of course, that's exactly the case. Sounding cautious, he added, "I'm not sure I share all of the optimism about a deal, because I think there's still some fairly entrenched positions that are hard to abandon."
"Trust, but verify," Bloomberg's Margaret Carlson said. "I think there's both — the charm offensive worked a little bit and they are exhausted. The war has exhausted them." Neither side is seeing a clear-cut victory, she added, "so they decided to call a truce."
For Democrats, it's "a political advantage" to take on Republicans in budget fights, Scarborough added, because the GOP tends to lose. "Some of us would say because the press hates even a small reduction of spending increases."
"It's a harder thing to do," Mika Brzezinski replied.
It's "harder to explain why we have to give people less money going forward, so we get our brains beaten out because somebody finds Tommy Smith from the Ozarks who is going to get 13 cents less this month than last," Scarborough added. "The stories are horrible."
But with the sequester, Democrats lost the showdown — and the White House understands there's risk on both sides. More and more Americans believe "we've got to stop this generational theft."
Take a look, via MSNBC:

Have a tip we should know? [email protected]