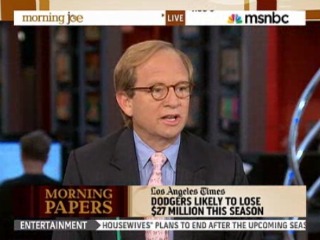 Monday morning, the Morning Joe team tackled two bits of harrowing news that host Joe Scarborough felt representative of the "fairly bleak times" in which we as Americans find ourselves: the NATO helicopter that was shot down over Afghanistan this past weekend and the S&P's decision to downgrade the United States' credit rating. Host Mika Brzezinski likened it to 1979, recalling reading the paper as a young girl and witnessing her family's distress over current events and the state of the nation. Panel member Steve Rattner added a more visceral reaction, saying her felt "nauseous" as well as "embarrassed and humiliated" by the credit downgrade.
Friday night I was sitting and suddenly by BlackBerry went and the news of the downgrade came across and I felt kind of nauseous; I felt sort of embarrassed and humiliated that we would have allowed our country to get to this place.

And then of course you had Saturday. I think your 1979 analogy is really apt. I guess, if we want to take a slightly better, more optimistic view of life, the economic conditions of '79 were arguably worse in some respects than they are today, and of course we had hostages inside the embassy in Tehran at that moment.
Scarborough remembered being told in high school at that time that his teachers were discussing the "end of the American empire" and, then, the talk turned to Texas governor Rick Perry's weekend prayer event in Houston — an event that aimed to pray for the nation months before news of this weekend's worrying headlines. Mark Halperin attended the event, and noted that "I have to say, it's easier to see the resilience of the country when you're not in Washington or New York, where people are obsessed about the problems. People out in the country are concerned about the future, but, you know, we came back from the late 70's, we'll come back from this."
Have a look at the segment, courtesy of MSNBC. Rattner's commentary begins around the 3:25 mark, and Halperin's around 4:36:
Have a tip we should know? tips@mediaite.com