MSNBC, HLN Air Image Of Trayvon Martin's Dead Body, Anchor Apologizes For 'Awful Mistake'
[WARNING: The image contained within may be disturbing to some. Discretion advised.]
For just under a second on Thursday afternoon, MSNBC aired a photograph showing Trayvon Martin's corpse sprawled out on the grass in Florida, just hours after he was shot and killed by George Zimmerman.
If you were watching the network's coverage of the trial yesterday, you likely missed the split-second mistake. But one Gawker reader caught it; and he submitted it into the website, resulting in a post that has made the rounds on the Internet this afternoon.
The cable networks rely on a pool feed for trials such as this one, and oftentimes it can be difficult to censor images quickly enough so that viewers at home don't see every last detail (or hear every curse word).
That apparently happened yesterday afternoon, as the image of a dead Martin showed up on-screen for under a second, before MSNBC's control room quickly scrambled to use a shot of prosecutor Bernie de la Rionda. Afterwards, it becomes clear the network is unsure what other images may pop up in the pool feed, and so a good ten seconds of the trial is simply blurred to prevent further slips.
But this is the image that appeared on screen and has been making the rounds: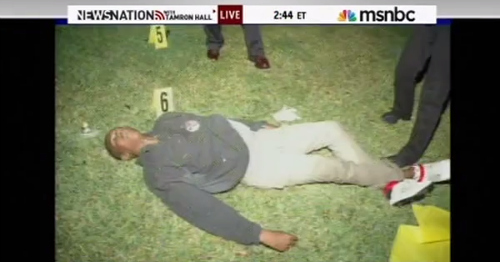 Since it aired during the 2 p.m. hour, which is hosted by Tamron Hall, some viewers took to asking her for an apology on Twitter. She responded by lamenting that it happened, calling it an "awful mistake":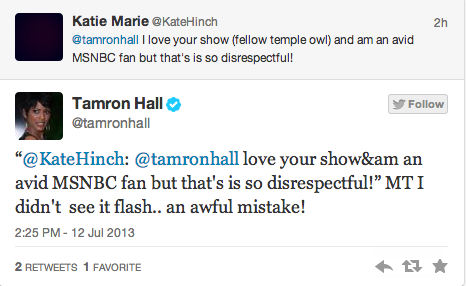 Watch the video below, via MSNBC:
UPDATE: HLN also aired the same footage:
— —
>> Follow Andrew Kirell (@AndrewKirell) on Twitter
Editor's note: This post has been edited since its original posting – Jon Nicosia, Mgr. Editor
Have a tip we should know? tips@mediaite.com